Critchlow offers high-resolution 3D maps from NTT Data using satellite imagery from Maxar Technologies
by William Tilsley, Imagery Specialist, on 16-Dec-2021 14:20:00

Critchlow Geospatial's expansion continues
We don't just add any satellite service provider to our one-stop shop – each one must offer a unique capability that fills a gap that New Zealand needs filled.
So, we are excited about this latest addition to our portfolio, NTT Data and their 3D mapping product, AW3D.
The NTT Data proposition is all about the precise 3D map that covers all global land spaces at a 5 metre resolution, with 0.5 metre resolution available in urban areas. We've already put some thought into its application here in New Zealand, but first, it's important to point out 2 key benefits.
A lead time of only one week and;

Highly competitive pricing (typically 25% of the cost of tailored mapping using aerial photograps).
3D Mapping for New Zealand
It's likely that if you're reading this, you work in the realm of geospatial information and technology. We both know very well that technology helps stakeholders understand the complex ideas and information we are putting forward.
Technology that leverages 3D not only makes that easier, it also tells a much more compelling story.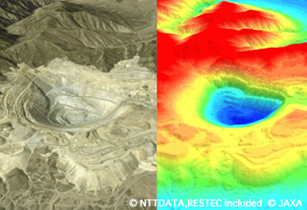 So if you are a GIS profession or if your role involves urban planning, built infrastructure, emergency management – even gaming and film production, NTT Data's 3D mapping product, AW3D is a tool you should have in your kit. Here are some applications that you should relate to:
| | |
| --- | --- |
| Sector | Application |
| Energy and Wind Power Generation Simulation | Geothermal exploration, oil/natural gas/ solar power plants |
| Infrastructure Construction and Management | Route planning for railway and road; telecommunications |
| Disaster Prevention | Flood simulation/tsunami; storm surge simulation; extracting landslide area |
| Mapping | Basemap |
| Air Navigation | Air route design |
| Urban Planning | Design drawing |
| Mineral Resource Exploration | Site selection |
| Water Management | Irrigation plans, water management |
| CGI | Game development, film production, and virtual reality |
Want to find out more?
I'm always happy to spend time with people who are keen on satellite imagery, whether they're experienced professionals or new to the technology. So, get in touch if you'd like to find out more. You can subscribe to our blog to receive our latest news as it happens.