Thinking of switching your fleet to EVs? We can help you build your business case
by Steve Critchlow, Group Managing Director, on 27-May-2021 14:41:55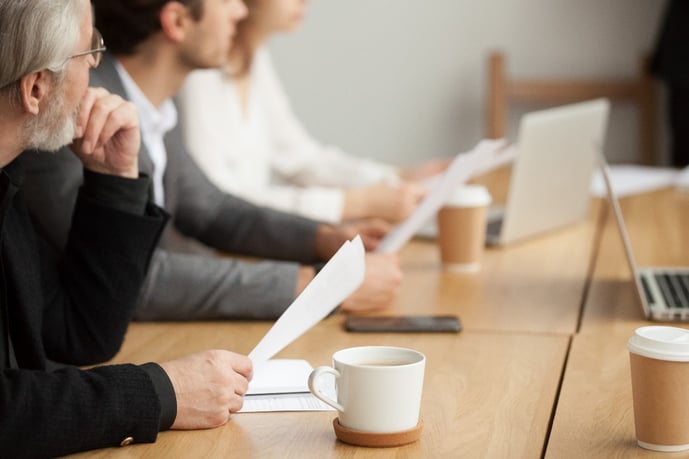 With co-funding in 2020 from New Zealand Government, Critchlow Geospatial has developed SwitchMyFleet, an online tool for fleet operators who are considering switching to electric vans and trucks. The goal of SwitchMyFleet is to forecast operating costs of commercial EVs using typical routes as specified by the users to kick-start New Zealand's commercial fleet transition.
SwitchMyFleet allows people to compare costs of using various fleet sizes and vehicle configurations, providing cost comparisons between internal combustion engine vehicles and EVs, and is based on the business' specific situation and geographic scope.
SwitchMyFleet is powered by NationalMap,which provides the most current, comprehensive, accurate and standardised geospatial dataset available for New Zealand, including a fully navigable, comprehensive road network.
Critchlow Geospatial's route optimisation algorithms recognise dynamic vehicle loadings throughout the route to predict EV energy use and takes into consideration the changing terrain so that EV's will return to base with comfortable levels of spare battery capacity.
How it works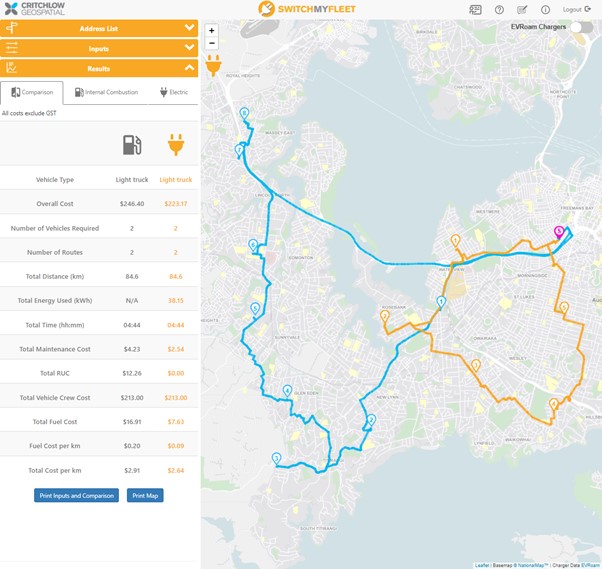 SwitchMyFleet offers the user a series of parameters about their business, their current fleet and their potential EV fleet.

To generate the most relevant real-world results, the user enters up to 100 addresses which SwitchMyFleet uses to design the optimal routes.

Once the data has been entered, the results are presented, comparing the operating costs of different sizes and types of vehicles, based on these optimised routes. For instance, the website user may wish to model deploying a larger fleet of smaller, nimble EVs with lower fuel costs than the current ICE fleet to provide a more responsive customer service. SwitchMyFleet also presents a map of the optimised routes.
The benefits
SwitchMyFleet allows businesses to consider vehicle types, number of vehicles, vehicle sizes and loads, and whether the vehicles are collecting or delivering goods – and importantly, the typical destinations they go to, and battery capacity needed to return to base without charging downtime.

SwitchMyFleet presents overall comparisons including maintenance cost, road user charges, vehicle crew costs and fuel costs, to provide an overall operating cost.
Outcomes for users
Most New Zealand businesses that have a fleet of commercial vehicles know they will switch to low emission electric vehicles at some future time. Compiling realistic and appropriate data to build the business case can be an obstacle that may delay this.
This free-to-air website is for fleet operators who are considering switching to electric vans and trucks and could be the catalyst to give New Zealand businesses the confidence to switch to EV fleets and reduce New Zealand's greenhouse gas emissions.

Importantly, operators can test different battery sizes to determine the most appropriate size for the job. With approximately 50% of an EV's capital cost attributed to the batteries, businesses will not want to pay for more battery capacity than needed. The smaller batteries means less weight for the vehicle to carry, so they can carry more payload within the defined gross vehicle mass.

We've designed SwitchMyFleet so that people can use the data to build their business cases, as they provide the important metrics need when considering switching some or all of a fleet to electric.

Our project aim has been to encourage fleet operators to consider purchasing commercial EV vans and trucks by demonstrating that it makes business sense to migrate some or all of their fleet to EVs.  More of these highly-visible EVs on the road will provide the increasing familiarity with EVs for New Zealanders, and perhaps encourage other fleet operators to venture into EVs.

The project was co-funded by New Zealand government in Round 8 of the Low Emission Vehicles Contestable Fund administered by the Energy Efficiency & Conservation Authority (EECA). EECA's Manager Transport Portfolio, Richard Briggs, says "This free web tool will enable van and truck operators in multi-vehicle fleets to compare combustion engine and electric vehicles for typical routes that they travel. The tool uses geospatial data to calculate the optimal routes and can compare the benefits of different types of vehicles. This means operators in this cash-strapped sector will be able to make vehicle choices across their fleets based on their real-world scenarios, which will save them money and reduce emissions."

Receiving government's support is a great endorsement of the value that route optimisation can provide to businesses that are looking to improve their fleet's green credentials. This co-funding has enabled us to deliver credible operating cost forecasts and battery sizing to New Zealand transport businesses.
About Critchlow Geospatial Limited
For over 30 years, Critchlow Geospatial has been New Zealand's expert in the application of geospatial information and technology that helps our customers achieve their goals and outmanoeuvre their competition. Sister company, NationalMap, is the premier provider of authoritative and comprehensive road, address, and location data for New Zealand businesses and government. Contact us for more information.