A satellite-eye view key for the future of NZ's primary sector
by Andrew Clouston, Senior Consultant, on 27-Nov-2019 11:06:22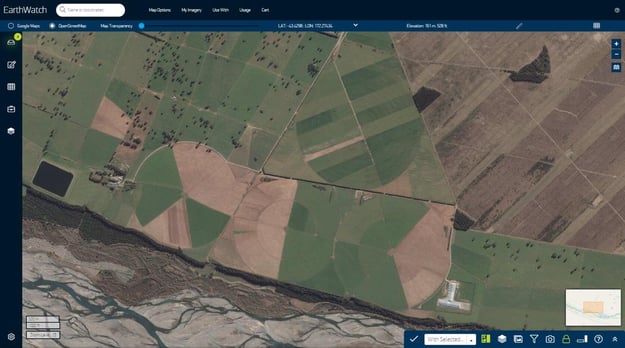 Why satellite imagery is a key analysis tool to visualise and monitor change, supporting decision-making
As a driving force of New Zealand's economy, the primary sector encompasses the agriculture, forestry, horticulture and seafood industries. These industries produce, process and move goods around the country, as well as export around the world.
The sector is regulated by the Ministry for Primary Industries (MPI) and earns the country billions of export dollars every year.
The changing nature of the primary sector means it needs to be certain that it has the right tools and data to meet current and future social, environmental, regulatory and sustainability challenges.
Aerial imagery is a key tool for the primary sector because it provides a critical context for decision-making; however high-resolution aerial imagery is expensive and time-consuming to collect and process. Not only that, the images themselves temporarily devalue over time, as the land is always changing. Aerial imagery is also limited to providing a visual perspective; there's little scope for analytics.
The needs of the sector have expanded beyond the reach of aerial imagery. The sector needs timelier, more cost-effective data provision that can provide the visual and the analytics to better inform decisions. These needs can be met with satellite services.
Satellite-based foundational imagery outpaces traditional aerial imagery by enabling advanced image analysis to visualise and monitor change. With this enhanced capability, businesses across the sector could see significant enhancements to their operations and growth.
Key benefits of satellite imagery are that of time:
Businesses can access relevant satellite imagery within hours of image acquisition, allowing them to make timely decisions, rather than relying on existing aerial imagery.
Business can acquire imagery that relates to natural events (e.g. floods, fire, earthquake) or seasonal needs (e.g. planning for harvesting).
Satellite imagery can provide the intelligence needed to solve complex business problems, such as obtaining metrics on the total areas or volumes under a specific crop (e.g. vineyards or forestry) and to predict crop yields. What this means for an agriculture business is they can make decisions based on an analytical perspective as well as a visual one.
Other key benefits include:
Being able to support multiple purposes and extensive areas can be covered in a single image.
The ability to obtain new satellite imagery as weather and soil conditions change.
A cost-effective solution – our investigations show that existing satellite imagery can cost less than 1% of equivalent drone imagery when using a subscription service.
Enhances business data for the primary sector, since businesses can access current and historic satellite imagery for anywhere in New Zealand (or the world).
Access to technology and expertise – satellite imagery providers have specialised tools, including artificial intelligence, that enhance custom analysis.
Satellite-based imagery uncovers a 'hidden world'; it can 'see' heat sources and detect change through clouds and smoke and readily distinguish between materials on the ground. Satellite images can be recoloured based on the information they're providing. So, when it comes to plant development, or land use and land cover characterisation, they're providing a measure or a visualisation.
A good example of how businesses in the primary sector can increase operational efficiency and inform policy is by using satellite imagery to plan and communicate information relating to a property. A recent satellite image will enable the owner or manager to show specific parts of the property, including any hazards, and indicate where work is required. It can also reduce the time and effort it takes to perform tasks such as site inspections, by being able to remotely view and measure features like fences and streams.
It can also improve decision-making about property development and maintenance through the ability to provide a current basemap for overlay with:
Cadastral and property boundaries.
Existing farm mapping (e.g. fences or building) including names and areas.
GPS track lines showing where rural contractors have applied fertiliser or sprays. These track lines can provide an audit control capability.
What this means is that satellite imagery plays a crucial role in foundational planning and communication, optimising land use, resource allocation and compliance or risk management.
Critchlow Geospatial have partnered with Maxar to provide a solution that offers high-resolution, affordable, on-demand satellite imagery and analytical systems for New Zealand. We can go beyond what's visible to the naked eye with multispectral imagery, including short-wave infrared (SWIR), to classify vegetation health, categorise man-made and natural material, penetrate smoke, detect fire, map minerals and more. It's game-changing technology and will enable businesses throughout the primary sector to improve their decision-making, enhance their operations and promote growth and sustainability.
If you'd like to find out more about our satellite-based imagery services, drop us a line and we'll get a discussion started.