Critchlow/Maxar partnership launch on-demand, high resolution satellite imagery for New Zealand
by Steve Critchlow, Group Managing Director, on 12-Aug-2019 16:03:57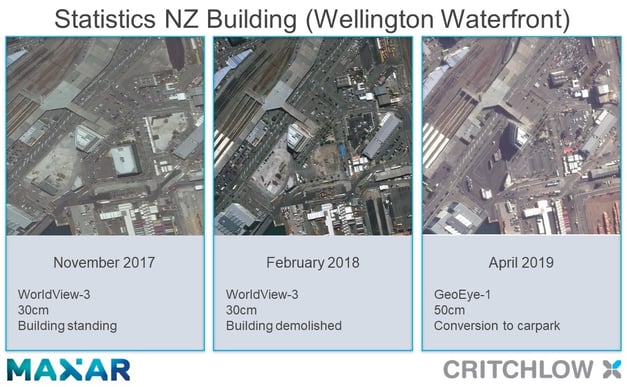 Recently, Critchlow hosted a very successful launch event for our partnership with Maxar, in Wellington.
This event was to announce and celebrate the new partnership between Critchlow and Maxar and to introduce attendees to the game-changing high-resolution, affordable, on-demand satellite imagery and analytical systems that Maxar produces. What follows is our recap of the event for those not able to attend in person.
Native 30cm resolution imagery
One of the reasons we partnered with Maxar is because they are the first company to deliver native 30cm resolution satellite imagery and average positional accuracy of 5m CE90. But, it's not just the very latest, high-resolution imagery and global coverage that can be delivered on demand and via subscription - Maxar can go beyond what's visible to the naked eye with multispectral imagery, including short-wave infrared (SWIR), to classify vegetation health, categorise man-made and natural material, penetrate smoke, detect fire, map minerals and more.
Team Maxar in attendance for the launch
We were very fortunate on the day to have Weeli Liam, Sales Manager for APAC and Oceania, and Amelia Syafitri, Imagery Support, from Maxar present at the event. Weeli and Amelia took us through Maxar's satellite constellation and imagery capabilities, as well as advanced multispectral imagery bands, their key markets and industry uses cases.
"New Zealand's unique geography and diverse primary industry sector mean there are numerous applications for Maxar's world-leading imagery and data. Through our partnership with Maxar, I see myriad ways that we can help create efficiencies and add great value in energy, insurance and telecommunications, as well as civil defence and disaster planning and recovery."
Maxar customers globally
Weeli gave attendees an overview of Maxar's operations and how they are in the process of integrating various established business units and products (such as DigitalGlobe, MDA, Radiant Solutions and SSL) into the Maxar family. However, it was details like key customers and the scope and scale of Maxar's data that really seemed to capture the room's attention. Maxar has solutions for the following markets: civil/government, technology, automotive, energy and mining, telecoms and insurance. In addition, they count as clients scores of international governments, as well as NASA, Uber, Boeing, Google, Microsoft, and Facebook, to name just a few. All use and trust Maxar to help their operations and businesses succeed.
Some of the data stats Weeli reeled off were no less impressive: 3.2 million sqm of imagery captured per day and historical imagery capture going back to 1999 for comparison and analysis purposes. Every 24 hours, Maxar estimates over 2 billion people benefit from their imagery world- wide.
Key Markets and Use Cases using short-wave infrared (SWIR)
Amelia's presentation focused on Maxar's key markets and use cases, and also provided an introduction to, and some startling examples of, how different spectral bands can be used to extract and identify features that can't be detected by the human eye.
These included SWIR applications for thermal imaging (e.g. hot spots in bush fires), as well as soil and mineral mapping and marine vessel movement (an application you'd have to assume would be uniquely relevant to New Zealand given our vast territorial waters).
Some identified New Zealand use cases and applications include:
Monitoring agencies

and

insurers

can evaluate current conditions in areas of interest, monitor change over time and understand the interplay between the built and natural environment.
Crop and forest growers

can better understand and track cultivation and crop health to increase productivity and forecast overall yields.

Disaster recovery agencies

can improve situational awareness and decision-making by monitoring changing conditions remotely, to deliver the right responses to the areas that need it most.
Telcos

will build precise and current 3D models for 4/5G wireless and IoT network coverage - faster than ever before.
Transport planners

can access current geospatial data that provides today's perspective on how cities are growing and changing, delivering improved services to your customers.
Local and regional government

can track changes in demand for optimised infrastructure planning before making investment decisions.
Maritime agencies can take advantage of radar for vessel detection in very large areas of open ocean and use up to 30cm resolution to aid in identifying vessels.
A live demonstration of Maxar's EarthWatch subscription service
Amelia and Will Tilsley from Critchlow then gave us a quick live demonstration on Maxar's imagery subscription service, EarthWatch, and showed us how easy it is to simply access through a browser, or GIS.
As you'd expect from the name, EarthWatch covers the whole globe, but as soon as Will had panned to New Zealand, one of our guests asked to see the imagery for Milford Sound. Will was able to immediately show complete satellite imagery (current and historic) for that area in seconds, which definitely caused a bit of stir, given how patchy this part of New Zealand is traditionally with aerial imagery.
One of the highlights of the demonstration was the speed with which Will could create a short time-lapse video using current and historic imagery to show change over time. The perfect tool for those times you need to present a compelling case to senior executives who are short on time – a picture (or in this case a video) painting a 1,000 words.
How we'll be using Maxar imagery to make NationalMap even better
The final session of the event was Critchlow's Andrew Smith showcasing how Critchlow will be using Maxar satellite imagery to make our NationalMap solution even more accurate and indispensable for anyone needing comprehensive road, address, and location data. Using the Takanini Black Beech Crescent development as a real-world example, Andrew showed how the very latest Earthwatch satellite imagery revealed what's currently happening on the ground (in comparison to the most current 2017 LDS aerial imagery) as far as addresses, land parcels and road centrelines are concerned.
We wrapped the event up with a lot of Q&A and a spot of lunch – all very enjoyable and a great chance to reconnect with a number of clients, colleagues and peers all buzzing with the possibilities and potential for this game-changing tech.
In summary
We are really excited about the partnership between Critchlow and Maxar and the opportunities it will provide Critchlow client organisations. They now have on demand access to the latest, highly accurate satellite imagery, as well as a rich diversity of temporal, spectral and spatial resolution options.
When you consider that you can even task a Maxar satellite to very quickly capture bespoke imagery at extremely short notice (e.g. right after a natural disaster event) then you really start to appreciate what a step-change this technology is.
Over half of all launch event attendees took us up on the offer of free trial of EarthWatch, which is pretty astounding and a clear testament to the huge potential this technology offers.
If you were unable to make it to the event and are interested in a free trial of EarthWatch then please drop us a line at info@critchlow.co.nz in the first instance.
About Maxar
Maxar is a global provider of advanced space-based technology solutions, delivering unmatched integrated capabilities in earth imagery, geospatial data, analytics and insights, satellites and robotics. The world's foremost governments and businesses trust Maxar to solve their most mission-critical challenges with confidence.