Critchlow Geospatial and SwitchMyFleet Big Winners at the Geospatial World Innovation Awards 2021
by Steve Critchlow, Group Managing Director, on 26-Oct-2021 09:30:12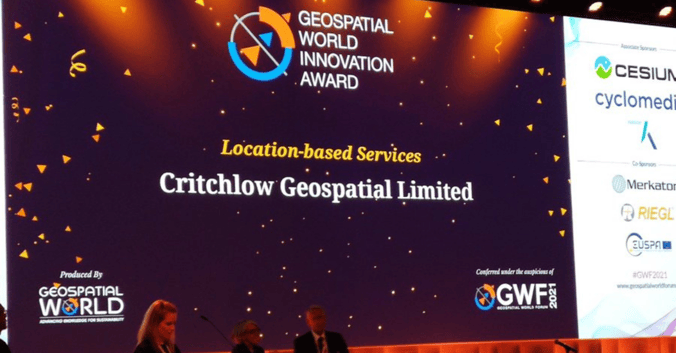 Critchlow Geospatial are honoured and delighted that our SwitchMyFleet solution has just won the Location-based Services Category at the prestigious Geospatial World Innovation Awards 2021.
The Geospatial World Innovation Awards are an internationally-acclaimed premium awards programme that recognise exemplary practices in the global geospatial industry. The awards were announced at the Geospatial World Forum 2021 gala dinner in Amsterdam, the Netherlands.
Our SwitchMyFleet solution is a powerful, but completely free, online evaluation tool for businesses considering switching their commercial vehicle fleet to electric power.
Due to the inherent complexity involved in planning the transition to electric at a fleet level, many commercial fleet operators have understandably been stricken with "analysis paralysis" when taking those first steps towards transitioning their ICE fleets to EV.
Critchlow Geospatial specifically developed SwitchMyFleet to overcome the immense informational complexity challenges that commercial fleet operators face when planning the transition to electric with a simple, elegant and easy-to-use interface.
Behind that easy-to-use interface, SwitchMyFleet is powered by authoritative address and 3-dimensional road network data from NationalMap and complex algorithms that balance time, distance and energy use:
All 2.3 million physical addresses in New Zealand (via IQ Office Geocoder)
Over 118,000 kilometres of navigation quality road network from NationalMap
Digital Elevation Model, utilising LiDAR at 1 metre (where available)
Travel speeds for all road segments from NationalMap
Aerodynamics and rolling resistance by vehicle type
Gradients and regenerative braking factors
Acceleration parameters by road segment length
Varying loads for multiple collections or pickups.
But, it's the combination of all these complex datasets and algorithms with the user's real-world fleet configuration and route inputs that truly makes SwitchMyFleet so powerfully practical and unique.
Knowing that the information entered into SwitchMyFleet reflects the actual, real-world operating environment of their business provides users with the assurance needed that these comparison metrics can be confidently used to build the business case to transition their own fleet to EVs.
SwitchMyFleet users can also easily test different vehicle types and battery sizes to determine their specific requirements and then forecast and compare the operating costs of conventional vehicles and commercial EVs.
| | |
| --- | --- |
| | |
| Users enter typical destinations and SwitchMyFleet validates each address and designs the optimal route | SwitchMyFleet provides a side-by-side metrics comparison |
With this richness of information, we believe that SwitchMyFleet is a world first in providing the level of real-world commercial fleet transition modelling that it does, and that it will be the catalyst that finally gives New Zealand businesses the confidence to switch to EV fleets and reduce our greenhouse gas emissions.
Since its launch, SwitchMyFleet has been used by businesses in a wide range of relevant sectors such as: central and local government, commercial vehicle importers, fleet management companies, environmental services providers, transport logistics providers, utility providers, and research and academia.
We built SwitchMyFleet with co-funding from New Zealand government through Low Emission Vehicles Contestable Fund (LEVCF) administered by the Energy Efficiency and Conservation Authority (EECA). The purpose of the LEVCF is to "encourage innovation and investment that will accelerate the uptake of electric and other low emission vehicles in New Zealand that might not otherwise occur".
EECA's support and enthusiasm for SwitchMyFleet have been sincerely appreciated and invaluable in getting the solution from concept to completion.
When we designed SwitchMyFleet, we did so with a clear view to helping New Zealand fleet operators "right-size" their EV fleets, but we also knew that there was huge potential in bringing a successful solution to international markets as well.
This Geospatial World Innovation Award is fantastic recognition and a real validation of the potential for SwitchMyFleet to have a global impact, one that can help accelerate not just New Zealand, but the whole world towards more sustainable transport systems.
"On behalf of the Energy Efficiency and Conservation Authority, I would like to congratulate Critchlow Geospatial for the award they received at the Geospatial World Innovation Awards.

EECA recognised that Critchlow Geospatial's proposal to develop SwitchMyFleet was worthy of support through co-funding, as we could see how this innovation would support our own mission to mobilise New Zealanders to be world leaders in clean and clever energy use.
We are pleased that Critchlow Geospatial has been recognised at a global level for their team's ability to bring together the physics of moving vehicles, New Zealand geospatial data, and route optimisation algorithms to build a free online tool to enable our transport sector to make the transition from ICE to electric, reducing greenhouse gas emissions and saving costs."
Richard Briggs, Manager, Transport Portfolio, Energy Efficiency Conservation Authority
The recognition continues
We are thrilled that Critchlow Geospatial has been named as a finalist for SwitchMyFleet in two categories at the New Zealand Spatial Excellence Awards (Technical Excellence and Spatial Enablement). The awards will be held in 2022.