Intermedix started the year off with a bang - releasing WebEOC Chat, a free instant messaging tool that has the power to significantly improve communications among WebEOC users.
The new Chat plugin is compatible with WebEOC v8.0 and up.
In a nutshell, users can look forward to the following features (among many others)...
Minimal administrator configuration: Simply download the plugin from the Client Hub and you're away laughing! Once downloaded, administrators will find it intuitive and user friendly.
Both one-on-one and group chat rooms: Chat one-on-one with users in the Online Users tab or initiate and join conversations with multiple users in the Chat Rooms tab.

Historical archiving of conversations: If you missed communications in the chat rooms in real-time, don't worry, you can access a complete historical archive of conversations.
Permission-based chat room access: Administrators can create unlimited chat rooms and grant access permissions to these rooms, ensuring that only users/parties relevant to the conversation can join the group.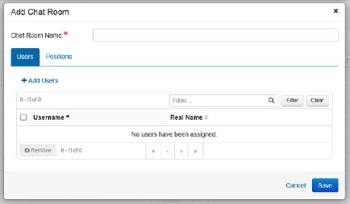 Home page and pop-up notifications for new messages: Notification alerts ensure you don't miss out one-on-one conversations.
Ability to upload attachments into conversations: Share all the information and documentation you need to in both one-on-one and chat room communications.
If you're already up and running on WebEOC v8.0 and up, install for Chat is easy - simply log in to the Client Hub to download the plugin and access the guides.
Haven't yet upgraded to WebEOC v8.0 or above? Now's the perfect time! 8.2 is the latest version - you can find out more about it's fantastic features and functionalities here.