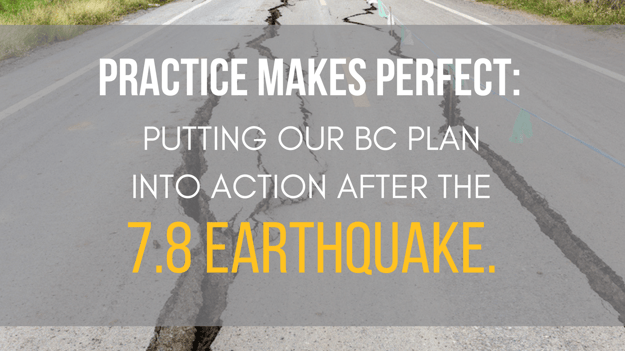 At Critchlow, we specialise in emergency management and business continuity management. Two things that are always important, but with recent events (read: quakes, storms and tsunamis) they're at the top of many organisations priorities.
Times like these can be trying for any business. What happens if your office building is at risk and cordoned off like so many have been in Wellington in the last week? How can you ensure that your staff are set up to work remotely and, most importantly, safely? What will you do if affected by power outages or IT issues? How will you connect with your customers and clients with as little disruption as possible?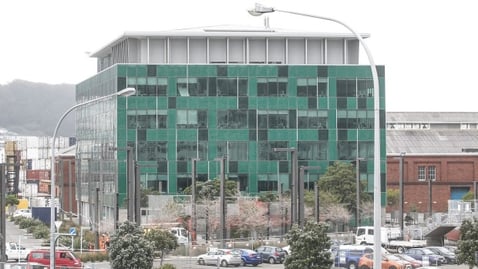 Damage to Statistics House on Wellington's Harbour Quays means staff
can't return for anything between a few months to a year. Image via Stuff.co.nz
In a day and age where, unless something significantly devastating happens, businesses need and expect to stay up and running – and it's imperative that we can do just that (give or take, of course).
So, with a shake and countless aftershocks that were enough to significantly rattle the nerves, but not enough to put our office building out of action, we thought was it the perfect opportunity to practice what we preach and ensure that, when there does come a time we're unable to occupy the office and business as usual needs to continue, we can do so successfully.
We had been planning on exercising our Working Remotely strategy and capability in the near future, but the 7.8 earthquake down south spurred the company to make the decision to get the ball rolling and test our strategy immediately.
Despite our building being given the all clear by engineers, we forged ahead and, at midday on Friday 18 November, we dispersed to our "remote" locations (be they homes, apartments, motels, or backyards) for a week of strategy-in-action. After all, one of the key parts of a successful business continuity plan is to practice it. No matter how organised you are or how sure you are that you've got all your bases covered, practice is key.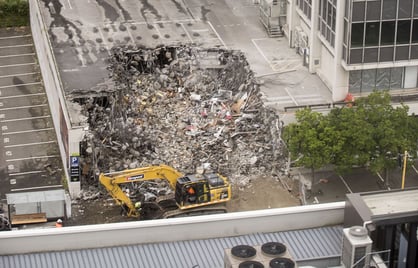 61 Molesworth Street in Thordon, Wellington is in the midst of being
demolished following severe structural damage.
Image via RadioNZ.co.nz
We use AssuranceCM Business Continuity Management Software for our BC plans. It's a flexible and easy-to-use digital platform that offers up our authoritative documentation, such as instructions on how to communicate with staff via emergency management messaging, and it enables us to understand quickly what our most critical processes are, the associated risks should these critical processes falter, and the timing and personnel needed to ensure we get our processes up and running as smoothly and risk-free as possible.
As well as utilising AssuranceCM during this "practice" period, what has also really worked for us is ongoing communication and collaboration – two things that are just as important as any platform. The decision to undertake the exercise was a decision agreed on by all staff (easy for us because we're a small team, understandably a lot harder for larger companies). Through emergency management messaging we have been kept up to date with any changes or issues, and we continue to work together as a team, albeit over the phone or via video (the beauty of technology).
As a result, we see there has been little to no impact in our productivity levels (in fact, with most staff we actually saw a small increase in productivity) and any problems have been addressed and dealt with swiftly.
For us as a business, this period has been a great way of utilising some of the solutions we partner with and understanding them from a user perspective.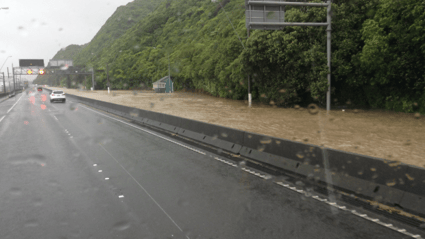 Severe flooding closes Wellington's State Highway 2. Image via Stuff.co.nz
Shortly, we'll be including the Whispir platform in our own BCM efforts, which integrates seamlessly with AssuranceCM, giving us the ability to communicate with our staff, stakeholders and customers easily and immediately across multiple channels in the event of a disaster. The Whispir platform, like AssuranceCM, is tailored to an organisation's specific requirements, offering up as little or as much as a business needs to communicate successfully during a crisis.
Like many people and organisations throughout New Zealand, the events of the past couple of weeks have given us a solid wake-up call.
We know we're prepared (we need to be, for our people and our customers) but the 7.8 earthquake hit home just how vital preparation is. It's not good enough having a business continuity and emergency management plan on paper, or just talking about what you'll do in a serious incident. Organisations need a strategy that they know will work and support them through trying times; a strategy that is easily accessible, authoritative and businesses can be confident in; and one that encourages communication and collaboration.
And then? Practice, practice, practice.