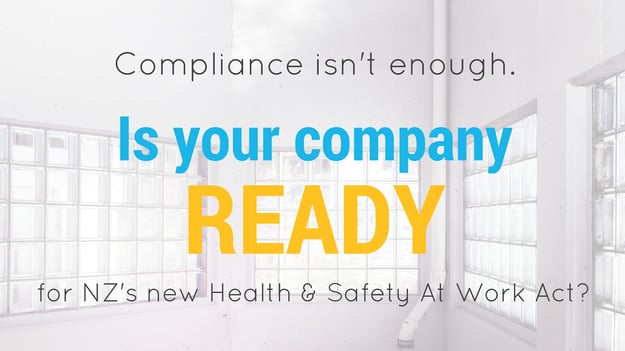 We're now just days away from the new Health and Safety at Work Act coming into play on 4 April. Like most new legislation, it takes time for people to absorb what the changes mean to their businesses and to develop and implement new processes and plans that will ensure they conform to legislation.
Like any change this big, we can't underestimate the impact it has on how we run our day-to-day activities, whilst not increasing the cost of doing business and not affecting productivity. The end game is worthwhile – stronger health and safety practices that are "right sized" for the type and size of business is a good thing. Our world has changed – and how we prevent and manage Health and Safety issues in our businesses needs to catch up.
This is the first significant health and safety reform in over 20 years.
There were grumbles from the Labour Party, Greens and New Zealand First; worrisome moments for directors and senior leadership teams as they identified the impact of changes on them personally, financially and on their reputation; the resignation of Sir Peter Jackson and Jamie Selkirk as Directors of Weta Workshop, after acknowledging that neither was able to be involved enough within the day-to-day running of the business. And I'm sure on top of these three examples, there were many more moments just like them up and down the country.
But as is the norm, the majority of people eventually accept change, move on, and do what they need to do.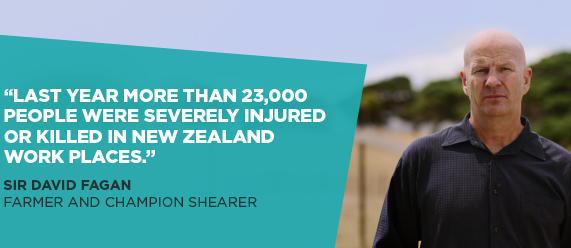 Image from Worksafe New Zealand
So let's look at why we need to "do our bit" when it comes to something as important (but sometimes overlooked) as health and safety:
One to two people are killed at work each week in New Zealand
600 to 900 Kiwis die prematurely from work-related diseases
The financial cost is huge – more than $3.5 billion goes towards work-related injuries and deaths each year.
Those numbers are big. Too big. Things need to change.
Compliance alone isn't good enough.
Health and safety in the workplace isn't just about being compliant anymore because it's easy enough to appear as though you have all your boxes ticked. Having a health and safety culture that looks good on paper is one thing, but when a worker is injured, sick, or killed, can your company honestly vouch for your health and safety initiative? Is it hole-proof? Or is it simply just "compliant", landing you in hot water with a potential lawsuit on your hands?
These are the questions that all boards and directors have had to ask themselves over the past six months.
Being compliant simply isn't good enough. Particularly in the time of a reform that aims to reduce work-related injuries and deaths by at least 25% by 2020. Add onto that personal liability for directors in the event of anything serious, plus much harsher penalties, the age of "compliance on paper" in the realm of workplace health and safety is gone.
Waking up those sleeping directors.
In the past, when health and safety was concerned, it was easy enough for directors to argue that any workplace incidents resulting in injury or death were the responsibility of management or any other employee in charge.

But a health and safety culture that's progressive and strong starts at the top. It's now up to directors to provide leadership and guidance towards a strategy that encourages all workers to respect and commit to a sound health and safety ideal. And, of course, what starts at the top ends at the top – any questions around workplace incidents are directed at the ones in charge: the directors. Hence, sleeping directors will now need to become 100% involved in the governance of health and safety within their organisations.
Which is a great thing. A positive thing.
So what does "getting ready" look like?
We spoke to Impac, New Zealand's leading provider of safety solutions, to see how they're helping their clients. Here are their Top 5 "Get Ready" tips for large organisations. Here's what they had to say...
Critical Hazard Reviews
One of our common findings is that organisations presume they're managing critical hazards and associated risks based on information such as 'no lost time injuries' or passing simple safety audits. However, all too often we see that only minimisation controls have been applied, and the risks are often managed inconsistently across locations. You need to apply the hierarchy of controls and ensure these are implemented across your operations.
Build Management Capability
Many organisations have trained their Health & Safety Representatives, but have not trained Line Managers. Safety is a line management responsibility and you must build their knowledge and skills so they can manage safety effectively.
System Reviews
Have a fresh pair of eyes (from independent competent experts) review your systems to ensure they are "fit for purpose" and effective. In addition, consider a safety governance review to ensure Officers can meet their due diligence obligations.
Safety Information Management
Information is critical for effective management. Move away from your old reactive indicators and get some real occupational safety intelligence!
Don't panic!
Focus on ensuring your people can return home safe and well to their loved ones, every day. Compliance comes second.
The benefits are tangible.
No legislation is ever going to be perfect – it's just like chasing the horizon and expecting to reach the end. What the new reforms do offer is the opportunity to develop a collaborative and robust approach to health and safety which can result in decreased running costs and an increase in economic returns for businesses. With fewer employees taking time off due to work-related injuries or sickness, and a potential reduction in staff turnover, productivity can thrive in this new legislative environment. Plus, a great health and safety management process is going to add definite brownie points to your reputation as a good place to work and indicator of good company culture.
So, is your company ready for April 4?