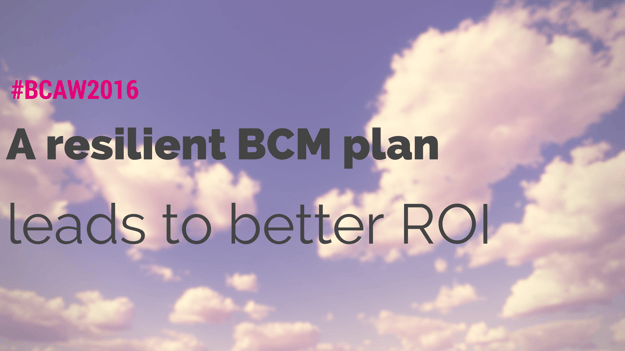 In this day and age, most organisations are finally realising the importance of having a business continuity management plan.
However, for many, the term "business continuity management plan" is unfortunately just that: a term. One that goes along with "yes, we have one of those!" There it is on paper. It's compliant. We've ticked the boxes. Crossed the t's and dotted the i's. But... when crunch time comes, is this "compliant" plan going to stack up? Will your organisation get through a disruption? Whether it's natural, technological, or otherwise? Odds are, no. It won't. Or, perhaps it will, but there's likely to be many pieces that need picking up, costing you time, money, manpower, and reputation.
So why risk it?
Why not take the steps to ensure you have a comprehensive, sturdy and, most importantly, viable business continuity management plan in place? One that minimises risk to your time, money, manpower, reputation, and organisation as a whole.
To put it simply, a sound business continuity plan is going to mean a return on investment for you. Which is the theme of this year's Business Continuity Awareness Week.
BCAW, led by the Business Continuity Institute (BCI), is a yearly event that focuses on raising awareness of the importance of business continuity and resilience. In 2016, BCI are highlighting BC planning as "not just an overhead, [but] a good investment."
They note: "In addition to the obvious benefits business continuity has in the event of a disruption, it [also has] other advantages.
For example, it could be that your insurance premiums are reduced (or not increased by as much!) as a result of having an effective business continuity plan; perhaps having a business continuity plan in place, and therefore being seen as a reliable supplier, has won you extra business; or possibly the analysis of your organisation as part of the business continuity process has identified where efficiency savings could be made."
There are A LOT of different reasons why organisations should have a resilient BC plan in place.
If you want to learn more, BCI are offering plenty of opportunities this week to get your head around the basics and importance of BCM. You can take a look at them here.