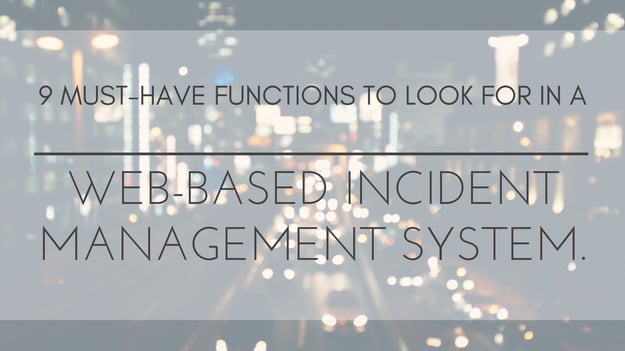 More and more organisations around the world are moving online with their incident management processes, which makes sense in a digital and ever-changing world that is fraught with terror attacks, threats to cyber security, and a frightening number of natural disasters - all significant risks that should be on the radar of every organisation.
For any business looking to leverage the benefits of moving their legacy incident management plans and processes to a web-based tool, knowing what to look for in a digital offering that will best benefit your company's needs in a time of crisis can be daunting.
So, if this is your first foray into web-based incident management tools, here are 9 functional requirements that you should add to your list of 'must-haves'…
ONE. It needs to suit your organisation's incident management needs.
This one's obvious. The whole idea behind a web-based, collaborative system is that it's ready to go from day one. No major training needed or custom development on your part. And the great news is, any good web-based tool can be tailored specifically to your needs before it's implemented, which means you won't be stuck with a straight-from-the-box system that does too much of what you don't need and not enough of what you do.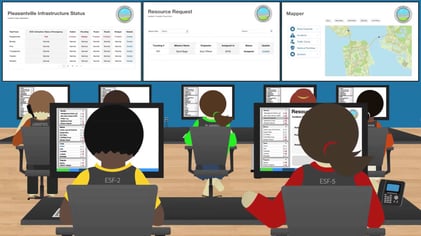 Image courtesy WebEOC - A Disaster Response Story - YouTube
In a nutshell? Make sure your tool moulds to your organisation, rather than you having to squeeze into it.
TWO. It MUST be user-friendly.
As we mentioned above, your organisation should be able to hit the ground running as soon as the software is implemented. Nobody wants to sit through hefty training processes to learn a complex system. Incidents change rapidly and your responders need to be able to gather and share information quickly and efficiently.
Plus, chances are that in an emergency situation the number of users will increase – many of whom may be brand new to the system – so a tool that is intuitive and user-friendly is vital.
THREE. Mobile capability is key.
In an emergency situation, you're going to have responders all over the place. What good is a digital tool if half of its users can't actually use it?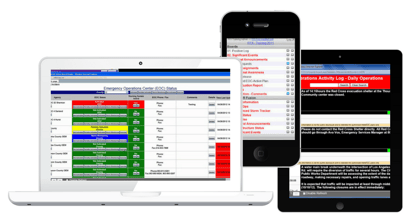 A web-based solution that offers mobile and tablet responsive technology is imperative – you need a common operating picture that allows all responders to share information between each other no matter where they're situated or what device they're using.
FOUR. Don't underestimate the importance of integration!
Technology is a powerful thing and in a crisis, you want to get the most out of it. An incident management system that can integrate efficiently and effectively to provide your organisation with the data you need in one place is so important.
Make sure your system can access single sources of truth, rather than simply bulk importing data that degrades over time. You also want to ensure that the promise of integration isn't just lip service, so make sure there's proof to show the software can do what it says it can.
FIVE. Not all users need or should have access to all areas.
The idea behind a web-based incident management tool is to keep things simple and efficient and the best way to do this is by being able to configure permissions based on individual users.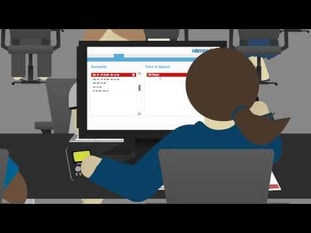 Image courtesy WebEOC - A Disaster Response Story - YouTube
The volunteer on the ground will likely need a different set of information than the EOC director and vice versa. The ability to set access controls that are based on an individuals' role enables them to do their job effectively, ensures your processes move smoothly and consistently, and keeps secure any sensitive information that's meant for specific eyes only.
SIX. You need to be able to track multiple, concurrent incidents.
Any type of large-scale emergency or disaster is going to launch a number of other incidents and putting response to one incident on hold while you respond to another isn't going to cut it. You need to be able to track, share and respond to multiple incidents at the same time and the software you're using needs to support this.
SEVEN. The ability to notify staff and stakeholders is vital.
It goes without saying that when an incident occurs, you want to be able to notify all interested parties as soon as possible so your incident management tool should support email, voice and text, and rich-message notifications or, at the very least, be able to integrate seamlessly with a system that can do this successfully.
EIGHT. You want to be able to delegate easily.
When you're in the throes of a large-scale emergency, as an Incident or Emergency Manager you want to be able to keep track of your resources and delegate authority as and when needed.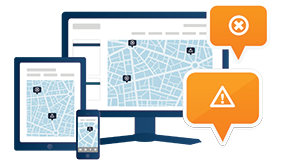 A good incident management software will allow you to submit task assignments and resource requests that are going to be routed to the appropriate people involved, no matter where you or they are situated. This means staff are able to stay up to date and manage any related activity effectively.
NINE. Everything is easier when there's maps involved.
If your organisation needs eyes across different geographic areas in an emergency, it's going to be a whole lot easier to visualise these locations and their status in map form. And what's even better, is being able to do this without having to involve GIS specialists (i.e. it's easy enough for anyone to utilise at a moment's notice).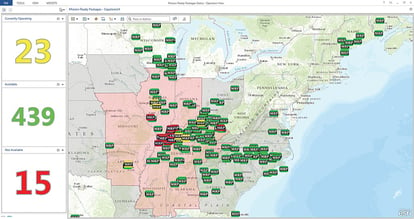 Image courtesy of Esri
Again, this comes back to an incident management system that integrates seamlessly – there are some fantastic mapping software options out there that can help you and your response team keep on top of what's happening where in real-time, no in-depth GIS experience needed!
* * *
Yes, there's a lot to consider when you're looking for an incident management system that's going to support and benefit your organisation's processes and plans. But it doesn't have to be a daunting or difficult process.
More and more organisations throughout Asia Pacific are turning to web-based incident management tools to ensure their processes are easily shared and accessed and, most importantly, all their information is coming from a single source of truth.
If you want to see just how beneficial a web-based incident management system can be in a large-scale emergency, check out how Northern Territory Police used WebEOC, a web-enabled disaster and emergency management system, to manage the 2011 Cyclones Yasi and Carlos in the case study below.