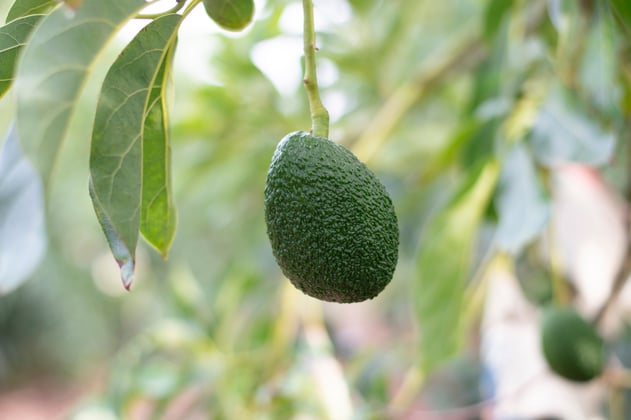 "From retail and investor marketing, to better decision making so we grow more efficiently with higher yields. Even through to assisting with the layout of new orchard developments and planning of various blocks, Seeka Maps has been a real game-changer."

Jason Swain, GM Information Systems, Seeka
Introduction
Seeka is an integrated horticultural and produce company that grows, processes, distributes and markets high quality produce, such as kiwifruit and avocados, directly to world-leading retailers and wholesalers.
In 2018, Seeka identified the urgent need for the business to be able to better provide the very latest hazard data on their orchards to staff and contractors.
The solution needed to swiftly and effectively address the pressing need for enhancing health and safety, but also have the capacity and capability to grow to become a powerful business intelligence tool for the whole organisation.
Read this case study to understand:
How Pitney Bowes Spectrum Spatial was used to visualise physical hazard and other spatial data.
How an online public-facing map layer was built so all Seeka staff, contractors, growers and owners could have immediate access to the latest hazard information.
How Seeka have been able to help their growers optimise their orchard returns.
How Seeka's wider business operations have been revolutionised through "spatial enablement".
The challenge
Orchard, harvest and packing operations are labour intensive. Working across more than 700 orchards brings unique and often changing Health & Safety risks.
With a safety-first focus, Seeka strives to ensure that all their 560 permanent staff, 3000 seasonal staff and 400 external contractors are all kept safe throughout the year.
Seeka had previously introduced tools to help collect, manage and share critical orchard information with staff and contractors. However, because the output of these tools was not available online, in real-time, the information was often out-of-date in terms of the hazards present (such as broken wires, or rabbit holes).
Previously, the key challenges in sharing location critical hazard information at Seeka included:
Over-reliance on a small team to create static PDF maps for staff and contractors.
The PDF maps being "out-of-date" potentially just hours after printing.
The sharing of location data with contract partners and across divisions was cumbersome and often inaccurate.
A lack of real-time, up-to-date spatial data.
As this was the first time that Seeka had implemented an online spatial viewer for the business, the project came with certain challenges and complexities such as:
LiDAR processing, data preparation, speed optimisation.
SQL and Seeka systems integration.
Drone image processing and creation of a tile service.
Hosting Seeka Maps outside their firewall for public viewing.
User adoption/training for an organisation that was not at the time "spatially aware".
Solution
Seeka worked with Critchlow to design and build integration models and layers to represent their orchards' spatial information. This information was then visualised in Spectrum Spatial by Pitney Bowes to create "Seeka Maps".
Instead of out-of-date PDF printouts, Seeka staff and contractors now have an up-to-date online map of an orchard's hazards, including sloping areas to avoid and other important features such as property access, buildings, parking, first aid, toilets and traffic flow.
"Seeka Maps has provided peace of mind when it comes to knowing that the health and safety data they store and share for their orchards is centrally managed and always the most up-to-date that it can be," says Critchlow's Jacob Pescini.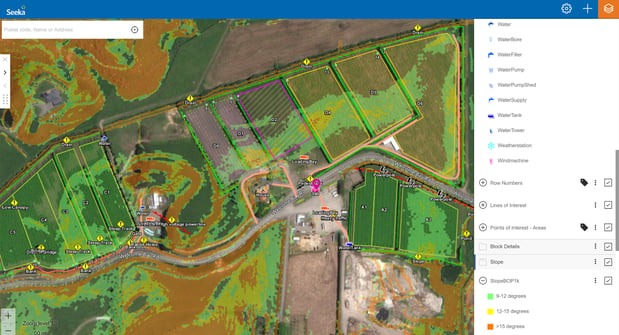 Seeka Maps allows Seeka to better understand:
Production information (yield, maturity, variety).
Understanding topographic impacts/variances (elevation, aspect, slope).
Spatial representation of the production data, e.g. trays per hectare pre/post-harvest.
Due to the huge success of the initial project, Critchlow are now helping Seeka to integrate additional data layers, features and functionality.
Additional future use cases for improving the ability to share location-based information about the orchards include:
Which orchards have been recently harvested, sprayed, pruned etc.
Regional reporting on dry-matter and metrological information.
Asset location identification.
Sensitive areas.
Soil Analysis/Land Care – by viewing the different soil types for each of the orchards.
Business benefits
Seeka Maps has helped to substantially improve on-site safety and do away with the use of out-of-date, printed PDF maps. Now, Seeka staff, or contractors simply type in a property's address on a smartphone or scan a QR code at the orchard entrance to view all hazard and associated data for the orchard.
As Seeka's Business Solutions Team Leader, Mariki Jovner says, "Now, everyone's connected to the same information. We know it's accurate and current - no more old printed maps in the back of the ute to access the orchards!"
Seeka Maps is already widely used across the Seeka ecosystem of head office, growers and contractors here in New Zealand, as well as in Seeka Australia, with approximately 600+ users. However, Seeka see further use cases and applications for Seeka Maps across all their divisions, including; Grower Services, Orchard, Finance, Corporate, Post-Harvest, Commercial, Retail Services, Supply, and Information Systems.
Visualisation of orchards in Seeka Maps currently includes: orchard boundaries, orchard blocks, harvest areas, crop and varieties data. With further integration of Seeka organisational data, Seeka Maps will not only provide the business with even greater visualisation of risk but also opportunity across their operations helping their growers optimise both their yields and orchard returns. "From retail and investor marketing, to better decision making so we grow more efficiently with higher yields. Even through to assisting with the layout of new orchard developments and planning of various blocks, Seeka Maps is a real game-changer," says Jason Swain, Seeka's GM of Information Systems.
About Critchlow
ISO 9001:2015 accredited, Critchlow is a leading, privately-owned geospatial services consultancy, with an associated range of skills, experiences and competencies.
Since 1991, Critchlow has been offering proven GIS solutions to government and the commercial sector in New Zealand, Australia and the South Pacific.
Utilising technologies from Pitney Bowes (MapInfo location Intelligence solutions), Safe Software (spatial data management) and other industry leaders such as Maxar Technologies, Critchlow helps organisations leverage their information for better insight and performance.
About Seeka
Seeka's vision is to be New Zealand's premier produce company. By providing a fully-integrated orchard-to-market service, Seeka grows, picks, packs, cools and supplies high-value products, such as kiwifruit and avocados, directly to world-leading retailers and wholesalers.
Seeka's core business is New Zealand kiwifruit, but is also significant in the avocado industry, operating in Hawke's Bay, Bay of Plenty, Coromandel and Northland. Their Australian orchards are that country's largest producer of Hayward kiwifruit and Nashi pears.