by Steve Critchlow, Group Managing Director, on 16-Jun-2014 15:27:28
Census is here. Are you ready to harness its power?
Though the primary purpose of the Census is to provide a population count and planning resource for government, in recent times the information collected has been used increasingly by market-focused organisations to enhance their marketing, customer insight and operations functions.
The devastating Christchurch earthquakes delayed the 2011 Census until March 2013, adding another two years to the normal five-yearly Census cycle (the last Census was in 2006). Because of the longer-than-usual wait and popularity of the Census information, there is strong anticipation from marketers and data scientists for the release of the key 2013 Census information in March 2014. Interestingly, the cause of the delay – the earthquake – is one of the reasons for the clamour: what is the demography of the regenerating Christchurch?
Unless you're one of the fourteen prosecuted for not completing a Census form, you'll likely remember answering a large variety of questions. This information is aggregated to protect privacy, and the majority of it is released at various levels of geography: the lowest being census meshblock (neighbourhoods of roughly 50 households), which can be used as a building block for further regional and national aggregations. The information ranges from the standard demographic fare: the distribution of (and average) income, ages and ethnicities, to the types of house heating used, access to Internet, type of occupation, residence at time of last Census, workplace address, and even the prevalence of cigarette smoking.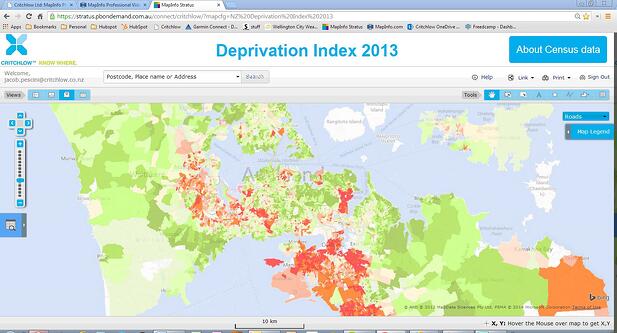 All of this information is interesting, and you can get lost in it, but how can Census be used effectively by marketers?
One key area is in optimising retail networks. By aligning their store presence with concentrations of desired demographies, retailers can ensure they are best positioned to reach their target markets. And to understand how big the market in the catchment is, geomarketing-savvy organisations will often profile store catchments with a range of information sources, including Census data, to get a rich understanding of the local market. They will then target customers through any of the channels in the traditional marketing mix, such as unaddressed mail, or more surreptitiously through placing products that appeal to the catchment demography. Market sizing can be done by matching another of Statistics New Zealand's products, the Household Economic Survey (HES) – most recently completed to the end of June 2013 – to the Census data. The HES reports the weekly spend across various expenditure categories for different demographics, such as that the most affluent households spend $50 a week on personal care, compared to $12 for the least affluent. Matching these to the meshblock Census data provides valuable metrics around market sizing and market share approximations.
Many organisations will match their customer databases to the meshblock-aggregated Census data as a way to predict customer attributes like income, presence of children, or even whether they are likely to have access to mains gas. With these attributes attached to each customer, profiles can be generated, such as 'what are the attributes of our best customers?', or 'which type of customer responded to our last campaign'? And the same principles apply for prospect data.
Census is also used as an input into a range of products, such as geodemographic segmentations, where it is clustered with housing and information and profiled by syndicated market research to produce a descriptive household-level segmentation: such as high income-earning middle aged professionals living in homes with high capital values, lower income students renting in shared accommodation, or retirees enjoying life in coastal havens. Such applications highlight the synergistic value of combining typically disparate data sources through spatial joining.
Another example is combining the Census work and home address information then overlaying it with road network and drive time information. This not only allows demographic profiling of a workplace area, but, through the modelling of various transit routes, the transient profile of various locations. Both are valuable in targeting outdoor media and predicting demand for products and services. Did you know that if you took a random person from each of Remuera, Te Atatu, and Pukekohe, that person would have the same likelihood of working in Mt Wellington? This is despite Remuera being three and six times more convenient, respectively.
Conclusion:
It doesn't take much to gain insight from the power of census, though you can shorten the learning curve and supercharge the benefit by talking to data experts.