What is MapInfo Pro Advanced?
MapInfo Pro Advanced utilises an innovative grid format called Multi-Resolution Raster (MRR).
MRR enables faster processing, visualisation and analysis of high resolution grid data as well as powerful grid analysis capabilities.
Benefits
MapInfo Pro Advanced is the solution for GIS professionals and analysts to work more productively with raster grid-based spatial information.
This information contains values which vary continuously across areas such as elevation and mobile coverage.
When the area of interest grows, the size and the scale of the data set grows exponentially to a size that is unusable by present-day applications.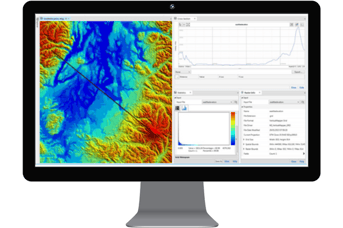 Capabilities
Only MapInfo Pro Advanced provides a step change in performance and usability when working with high resolution grid data at a massive scale. It offers support for interoperability with third-party technologies through the import and export of a wide range of grid and imagery formats.
MapInfo Pro Advanced provides innovative capabilities that enable GIS professionals and analysts to:
Efficiently utilise detailed datasets regardless of size
Create new information (e.g. slope) from existing spatial data
Perform comprehensive map display and visualisation (e.g. analytical hill shading)
Improve the understanding of spatial distributions in data
Carry out simple to advanced analysis of spatial data using a wide range of standard operators via the Grid Calculator.
The innovative and industry-leading MRR format provides unmatched support for the following capabilities via a SDK including:
True multi-resolution raster files which allows data to be stored with variable cell sizes or resolution in a single dataset for improved efficiency and accuracy
Support for temporal analysis with multiple grids used to show how data changes over time
Support for multiple variables within a grid file allowing for display of multi-band satellite imagery.