FME
Critchlow chooses the market-leading FME platform from Safe Software because it is the best extract - transform - load (ETL) technology for spatial data transformation. The evidence is that it is used by tens of thousands of organisations worldwide across a wide range of industries.
FME, combined with Critchlow's extensive background working with some of New Zealand's largest spatial datasets, means our clients can benefit from both the best data transformational technology and our expertise in ETL processes.
FME makes it easier to handle the diverse range of spatial data formats and evolving standards that make data interoperability such a challenge. With a unified view of your spatial and non-spatial data, you can better meet business goals and required standards, generating new insight across the organisation. Solve more spatial data transformation challenges than with any other technology.
FME Desktop
Access all of FME's technology through FME Desktop's intuitive graphical interface. With unrivalled format support and over 400 transformers you can configure your workflows without writing a single line of code.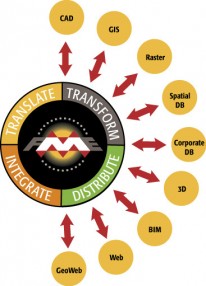 Use FME Desktop to easily for the following:
Data conversion - translate between 300+ supported formats
Data transformation - restructure and manipulate its contents
Data integration - combine data to use in your preferrred system
Data sharing - share data with colleagues for use in other applications
Data validation - identify data quality issues and fix them
FME Server
Provide Unparalleled Access to Data
Bring the power of FME to the enterprise with FME Server and make data available like never before.
Share the Power of FME Technology

Even with FME Desktop, maintaining and distributing data for a large organisation with diverse needs can be a time-consuming task. FME Server passes the power of FME technology on to the end user - via the web - so they can transform data in a self-service format, how and when they need it, without any FME training.
Automate Data Movement Processes and Keep Information Current
Keep data current with real-time data and scheduling capabilities. FME processes run automatically in response to triggers such as availability of new data or a new time cycle.
Receive Data from Anywhere, Deliver Data to Anyone
Enable a seamless flow of data throughout your organisation. FME Server receives and evaluates incoming data against highly customisable business rules, then automatically executes tasks based on the result. It offers a flexible platform for receiving and delivering push notifications to and from subscribed clients with support for major web, mobile, and email protocols.