What value does the private sector add to road centreline GIS data in New Zealand?
by Steve Critchlow, Group Managing Director, on 05-Oct-2015 14:35:47
New Zealand Local and Central Government agencies are doing a great job at providing free public access to the data they collect and create. For example, The Land Information New Zealand (LINZ) Data Service (LDS) https://data.linz.govt.nz/ has over 1800 datasets available for free download in various geospatial formats. Yet mapping companies are still producing datasets and selling them for money. Are these companies just duplicating the efforts of these agencies or, worse still are they just freeloading and re-packaging freely available government data for profit without adding any value?
This blog explores what value private sector mapping companies add to public data and why they do it. Specifically I would like to explore road centrelines and answer the question: "Why would I want to pay for road centrelines when I can download them free from the LDS?"
Fit for Purpose
LINZ have two types of road centreline data on their data portal: cadastral (legal) and topographic (real world). Cadastral centrelines are from the land-on-line (LOL) database, and were originally digitised in LOL's predecessor, the Digital Cadastral Database (DCDB), in order to position the road name on the cadastral record map. The topographic centrelines have been created to display roads on the LINZ 1:50000 topographic maps. It is important to understand the origin of these datasets before we try and put them to use for something that they were never intended.
The first question that needs to be asked when evaluating a dataset for use is: "What will the data be used for?" Once we have that clear in our minds, we can then consider what datasets are available and how suitable they will be for our purpose. If I simply want a background map for a small scale mapping project, and I'm not too worried about currency and positional accuracy, then the LINZ topographic centrelines will suit my purpose. However, if I want to do network analysis like routing or resource allocation, then I am suddenly in need of topological qualities like: reliable road connectivity, turn restrictions, over/underpasses, as well as attribution like speed limits, road surface type, and road hierarchy. It is these additional refinements that are not available from datasets available from the LINZ data portal.
When it comes to spatial data and specifically road data ensuring fitness-for-purpose can be the difference between a successful project and accurate results or project delays and unhappy customers and near worthless results. When evaluating fitness for purpose and road data you need to look at the following three components: positional accuracy (alignment), attribution and currency.
Positional Accuracy
As GIS data is an abstraction of reality it suffers from positional inaccuracy and imprecision. The level of positional accuracy required varies on the use of the data. For road data, Engineering, asset management and routing projects require very precise information as opposed to a map of an area for marketing purposes.
The two sets of road data on the LDS currently tend to follow the legal (or cadastral) alignment providing sufficient positional accuracy for regional and national mapping needs. However, when the positional accuracy is evaluated in certain areas at a high detail, the alignment does not represent the real-world accurately enough for the use-cases noted above.
The map below shows an example of where the LINZ cadastral based is significantly different to the actual alignment of the roads and their intersections.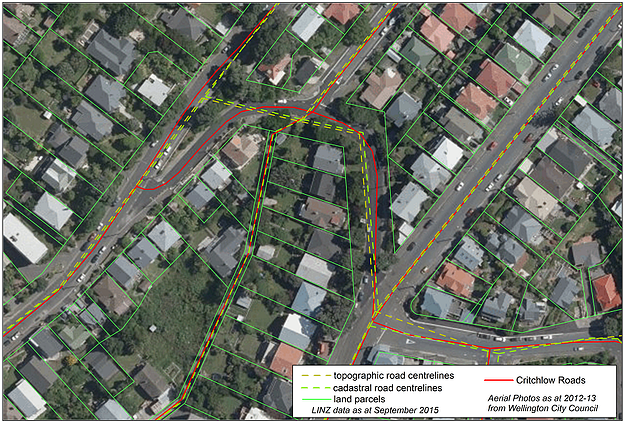 Roundabouts are important for routing and display for large scale mapping. Neither of the LINZ datasets depict roundabouts consistently: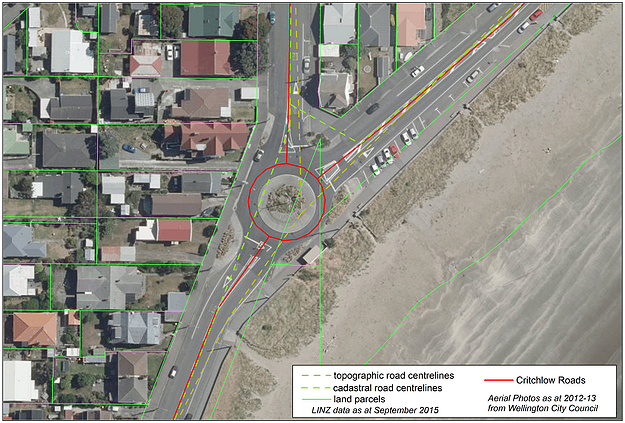 Attribution
The geometry and positional accuracy of a road only tells half the story. A full set of attributes adds immense value to the data by identifying such things as signposted and alternative naming, speed limits and average speed of travel, road hierarchy, and legality information.
Naming variations
The signposted name is most important, as it is what people who live on and travel along a road know it as. The signposted name may well differ from what LINZ show (which is the legal name). When the legal name differs from the signposted name it is desirable to record this in a separate field.
There are situations where a local name is in use for a road, which can differ from both the signposted and legal names. Again where this occurs, it is desirable record this local name in an alternative name field.
Speed attributes
While it is useful to know the legal speed limit, in some use cases it is often more important to know the average speed that a vehicle, cyclist or pedestrian could be expected to travel on a particular section of road. This average speed needs to account for factors like road surface, number of corners and bends, as well as high scenic values that cause tourists to experience longer travel times than they may expect.
Neither of the LINZ datasets contain speed information, so to assemble, and maintain this information is a significant investment. New Zealand speed limits are set by the 66 Road Controlling Authorities (RCAs), and as speeds can vary greatly along the length of a road and are subject to regular change it is necessary to have processes in place to regularly review speed limit changes.
Other attributes
Other attributes not supported by either of the LINZ data sets but that are important to routing and mapping applications are:
Direction of travel along one-way roads and dual carriageway roads
The concept of a road hierarchy – this is particularly importing when routing vehicles
The ability to be able to differentiate between Legal, Private, Non-Legal Road, Military Roads and Roads within Gated Communities.
Currency of data
It is important to be able to stay ahead of roading changes and to do this requires being proactive across a number of sources of change intelligence, including:
Road Controlling Authorities (RCAs).
The national RAMM database (Road Assessment and Maintenance Management).
Changes in the LINZ topographic and cadastral roads patterns.
Local news feeds, for information on when new roading developments become live.
The image below shows a completed roading project where the LINZ cadastral centreline still following the old alignment.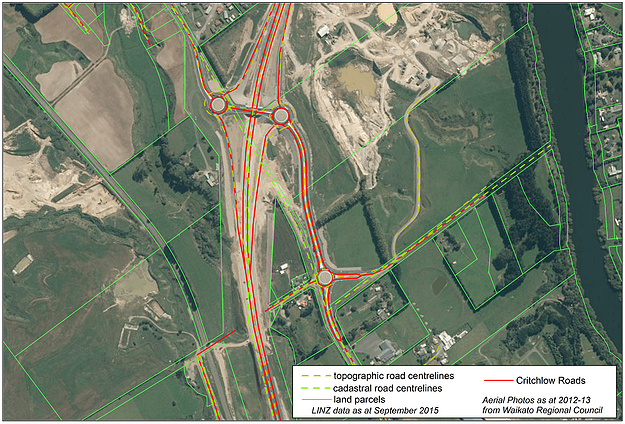 While LINZ uploads land subdivision data to their Landonline land registration system (LOL), this does not necessarily mean a road centreline appearing in Landonline is actually a formed road. Developers, infrastructure planners and engineers need to be aware of plans for future roading developments but it is important to know about these as proposed roads only as often the alignment of these roads will change. The following map shows the proposed realignment of the Haywards Interchange SH 2, Wellington Region.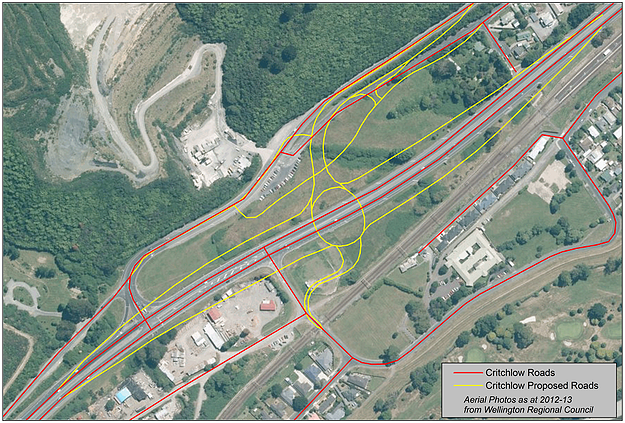 Conclusion
While it is great to operate in a country where Local and Central Government makes so much of its data freely available, there are limits to the usage of some of this data and a number of traps for unwary players. By assessing the "fitness for purpose" of a particular dataset you can understand if it is going to support your requirements and while the saying 'you pay for what you get' is often used – when it comes to open data and the road datasets available for New Zealand, at the present time, it's more of a case of – 'you don't get what you don't pay for'.