Upgrade to MapInfo Pro 2019.1 for extensive support for Python scripting
by Janet Bateson, on 11-Aug-2020 15:47:11
If you haven't used or upgraded MapInfo Pro in a while, you may be surprised to find there have been considerable advancements in the development environment surrounding the product.
MapInfo Pro 2017.3 provided some limited support for Python, however with MapInfo Pro 2019.1, Precisely (formerly Pitney Bowes) have taken this much further, providing extensive support for Python scripting, enabling those who are already familiar with this language to access custom automation written in Python from within the MapInfo Pro environment.
The first release of MapInfo Pro 2019 incorporated much enhanced SQL expressions, bringing MapInfo SQL more in line with the industry standard. Users can now write complex table joins to their heart's content from their Mapbasic window, or within a Mapbasic application.
Another improvement to the Mapbasic window in MapInfo Pro 2019 is support for IntelliSense, meaning that similar to other SQL industry tools, it is easier to input valid parameters, via the embedded pull-down prompts as shown in the image below: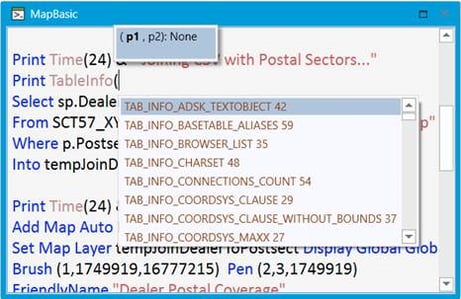 For some time now, Mapbasic, the development environment for MapInfo Pro, has incorporated the ability to call a .NET method, meaning developers can write procedures and functions created using various languages, such as C# or VB.NET, giving access to a much wider range of standard function calls. Mapbasic 2019 is available as a free download if you have a MapInfo Pro licence.
Did you also know that MapInfo Pro Advanced incorporates an SDK for manipulating raster datasets? The latest APIs provide the ability to create and manipulate rasters from LiDAR data, for example an API to interpolate Lidar data to find Tree Canopy Coverage.
If you are keen to explore the new functionality for yourself, download the latest evaluation version here.
If you'd like to upgrade to the latest version of MapInfo Pro, send us an email to info@critchlow.co.nz. Please note that Python scripting support is only available to customers on MATS who have downloaded MapInfo Pro upgrade (Version 2019.1).