Seven Key Features to Look for in an Address Validation and Geocoding Tool.
by Steve Critchlow, Group Managing Director, on 12-Apr-2019 10:47:00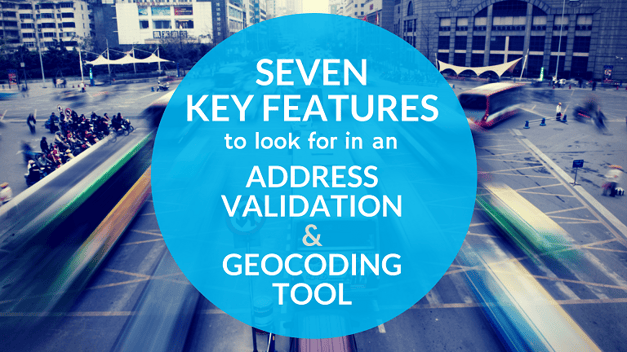 Quality data is vital to the success of any organisation that utilises it in their everyday business practices and initiatives. The value to be gained from having accurate and consistent data is significant; and the easiest, most beneficial way to make sure that your business is receiving the best data possible is by using address validation and geocoding.
What to look for when choosing an address validation and geocoding solution.
With many different address data validation and geocoding solutions available, identifying the differentiators between each one and ultimately choosing a tool that fits your needs can sometimes be overwhelming for organisations.
To make things a bit easier, we've picked out the seven most important features to look for when deciding on an address validation and geocoding tool.

ONE. It offers unparalleled accuracy.
The collection of consistent, reliable, and valid data is underpinned by one thing: accuracy. And as far as accuracy goes, not all solutions are created equal.
A system that employs pre-set standards, regularly updated reference data and strict criteria will ensure that an organisation's data is instantly fit for purpose. Incoming and existing data that is validated against set benchmarks – such as location verification via geocoding, email address authentication, or validation of a critical feature identified by the organisation themselves – allows businesses to carry out efficient and effective analysis, reporting, and communications with customers.

TWO. It's user friendly.
Many organisations these days are short on time and resource, so when employing any new system, you want one that's going to ensure users can hit the ground running with minimal disruption or need for training.
Eliminate training requirements with a tool that allows users to enter data into your standard address entry screens, instead of a separate or third-party capture screen. This will also increase uptake from all users, regardless of skill level.

THREE. It's intuitive.
Look for a tool that adapts to your data entry practices and procedures, not the other way around. Address validation and geocoding software that is truly intuitive will have the ability to understand and transform unstructured input. So, regardless of how you enter the address, the system will convert the data into a standard format instantly.

FOUR. It's flexible and easily customisable.
A system that holds its logic in open interfaces allows for flexibility and customisation, meaning organisations can adapt it to suit their specific business uses and needs, no matter how simple or complex.
Depending on how your organisation wants to use the system, it's also important to look at options for hosting. Can it be hosted locally on a server? Is there a cloud-based option? Can we opt for an "off the shelf" version that will cover our needs? Can we customise it to suit our organisational requirements?

FIVE. It offers seamless integration and scalability.
A software's ability to integrate with other operating and database systems is vital, so look for a tool that not only integrates with the systems you currently use, but does so seamlessly without error or risk. And of course, for organisations that share their data, a tool that's easily scalable and allows for an unlimited number of end-user connections is a must.

SIX. It can be implemented easily and reliably.
A system that incorporates 'tried and tested' software components and open interfaces will likely make for a faster, more reliable implementation process, as well as lending itself to increased maintainability and durability, including performance and speed.

SEVEN. It's developed with your location in mind.
You'll find added value in choosing a solution that specialises in the location/country your organisation is based. Using a tool specifically for a certain country (i.e. New Zealand or Australia) means that the address matching rules and geocoding outputs are defined by local authorities and take into account indigenous location names, ensuring unrivalled accuracy and detail.
Selecting an address validation and geocoding system doesn't need to be a daunting process. Ultimately, you want a tool that is going to meet as many of your organisational needs as possible – finding a system that does will enable your business to make informed decisions, analyse and report correctly, understand customer and market trends, share and integrate your data seamlessly, and of course, provide a return on investment that will prove itself time and time again.
Contact us for further information and to discuss options for your organisation.