Is route planning the biggest waste in waste management?
by Steve Critchlow, Group Managing Director, on 09-Sep-2019 14:01:40
Spatial intelligence can transform the effectiveness of major operational challenges like route planning, with waste management collection contracts a key example.
Waste is a big issue in New Zealand, literally. Last year Kiwis produced 3.68kg of it per capita every day according to Waste Management World, the highest volume in the developed world.
Little wonder our local authorities are increasingly focussed on better ways to collect, recycle and process this material. One investment they make is to contract fleets of trucks to ply their territories, picking up different forms of waste, from landfill-bound rubbish to recyclables and dropping them off at designated facilities.
One of the greatest areas of 'waste' can be in the route planning used for these weekly mass collections. For example, one organisation Critchlow worked with had overestimated their truck fleet requirements by a total of eight vehicles, representing a potential additional capital cost of $500,000 per unit, as well as $150,000 in annual operating costs.
Route planning and optimisation, in this case, was a small investment to avoid this waste of resources, and more importantly negative impact on profitability. It is a number that companies want to get right before tendering for long term contracts, rather than realise it during.
Considered two-dimensionally, as a flat route on a map, route planning seems a relatively straightforward logistical exercise. Applying some spatial intelligence however reveals a much deeper, richer and potentially more expensive picture.
The foundation is finding optimal routes across a designated area. There is the basic mapped route, getting a clear understanding of the number of pick-ups (e.g. houses) and the distance to be driven. Accurate and current data sources are key, but basic mapping solutions don't always have all the features you need to think about when designing a route for trucks to ply every week, e.g. left-hand pick-ups, busy road crossings, height, weight and width restrictions that don't show up clearly on standard maps.
Considering driver health and safety is another facet of route planning, i.e. that their route is safe, avoiding any dangerous or narrow places. Waste collection vehicles can't make U-turns for safety reasons (as well as the wear and tear of vehicle tyres), which has implications for the optimal route. And the route itself can't put drivers under unrealistic time pressure to complete. There are always trade-offs between optimisation and health and safety.
To calculate costs accurately, variables like the weight of bins need to be understood. And this is where the simple mapped route needs to be overlaid with insights into the demographics of different areas. For example, areas of high wealth tend to produce more green waste as they tend to have larger gardens and trees. All of this needs to be factored into the route planning puzzle.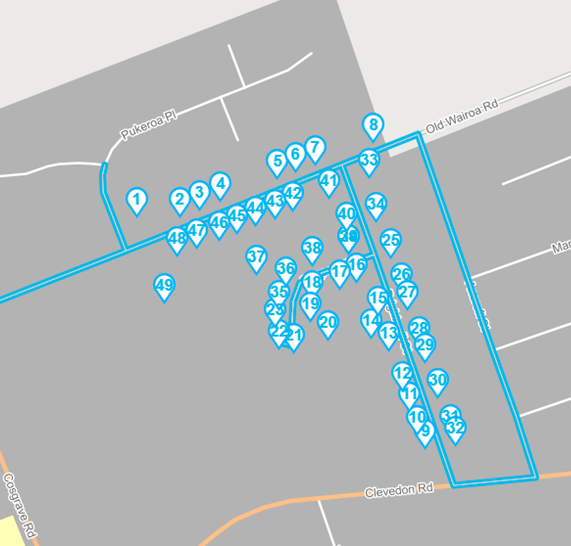 The algorithm used to design routes that conform with left-hand only pick-ups reveals some unanticipated, yet logical, results. In the example above, to achieve the shortest overall trip for one truck, the cul-de-sac is visited twice: the first time is to get to points 16 to 23, while also turning to approach points 25 to 32 from the left side; the second time is to enable a U-turn to return to the depot via the shortest route after collecting points 33 and 34 (note: U-turns are only to be taken on cul-de-sacs).
Using the road network in the smartest way is key. Understanding traffic movements is an element of the planning process, but you also need to factor in less common variables, such as the development of a new subdivision planned in that area after the initial route has started. This needs to be costed into the model.
Optimising route planning properly typically saves 5-15% on initial estimates, representing significant cost savings over the life of a contract. With a new round of census data coming onstream soon, that will also change variables for route planning, which also must be included.
Whether you are planning waste collection routes, or something completely different, minimising 'waste' in terms of time and resources is key. And spatial intelligence can help give you the complete picture.
One of Critchlow's experts would love to talk to you about route planning and help you use the tools and data sources necessary to make the best decisions. Find out more about our route planning here.