Our satellite service providers – why we have selected a range of providers for the New Zealand market
by Will Tilsley, on 16-Sep-2021 15:56:37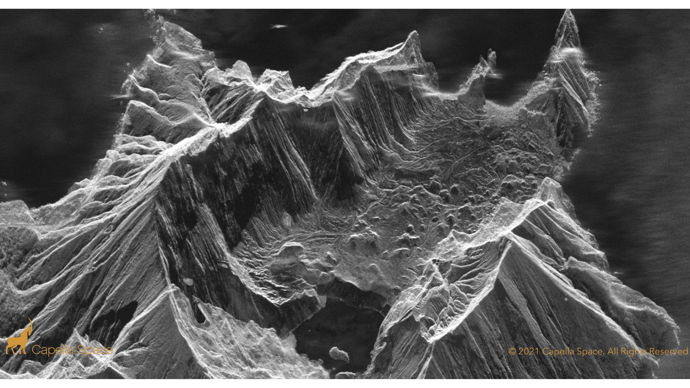 Image: Whakaari/White Island, New Zealand, 24 June 2021, 10:00 pm NZT
There is now a good deal of maturity in the satellite services sector, with providers all offering variations on next generation technology in terms of capability, currency and access.
This is why Critchlow Geospatial carefully studies, analyses, and curates a preferred selection of vendors to bring the power of fit-for-purpose satellite imagery to our New Zealand customers.
Collectively, our partners provide the New Zealand market with access to a broad selection of satellite services options. Critchlow Geospatial has become New Zealand's one-stop shop for satellite imagery, doing the leg work for our customers, ensuring that we offer the right mix of services to meet the country's unique requirements – no matter what sector or industry you are in.
Critchlow Geospatial's satellite services partners are:
Capella Space; and
Now, you might ask, "why 3 different suppliers and what are the individual points of difference in their service offerings?".
I'm glad you asked…
Well, like any market there will be a range between established premium players and promising and valuable challengers and disruptors. Each of our partners offers something unique that we see as having an important application for New Zealand purposes generally (and specifically).
We have aimed with our careful curation of partners to provide flexibility and a range of services so that there will be a fit-for-purpose product for most industry use cases.
Here is a list of just SOME of the considerations and variables that inform the selection of the right satellite services for New Zealand requirements:
Imagery resolution
The volume of imagery and data captured
Frequency of imagery capture/revisits
Historical archives of imagery data
Optical multispectral data
Hyperspectral imagery
Synthetic Aperture Radar (SAR) Data
Resolution of SAR data
Change monitoring analytics
Mature subscription offerings (eg. self-service portal options)
Satellite tasking capability (and time frames to the task)
Streamlined satellite tasking
Number of specialised satellite constellations
Affordability
Further, the following infographic demonstrates the relative strengths and merits of each of our satellite services partners as we see it.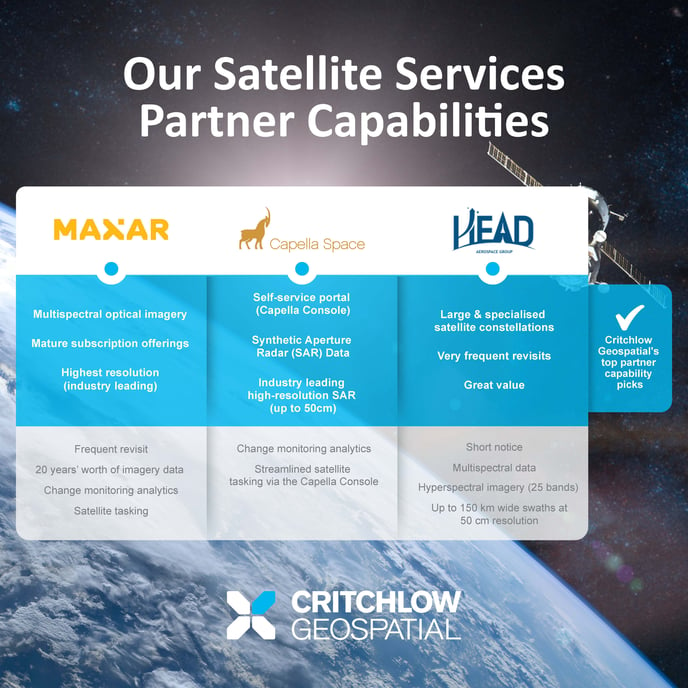 If the range of service options appears a little overwhelming at first, then that's understandable. Rest assured, Critchlow Geospatial is the local expert in tailoring next-generation satellite services to meet your specific needs.
Over the next few weeks, I will be exploring industry specific use cases for satellite services.
Stay tuned to see how your industry and organisation can innovate, improve productivity, and reduce costs with Critchlow Geospatial's portfolio of next-generation satellite services.
Or, if you're ready to chat about how satellite services today, get in touch – we're here to help.