New Features for MapInfo Pro 2019
by Viviana Morales, Consultant, on 22-Sep-2020 15:20:31
This article will walk you through the new features and enhancements appearing in MapInfo Pro 2019, based on latest available version (v2019.2). Each new feature is described, along with some graphic examples. However, for more detail please check the release notes referenced at the end of this article.
New Features:
Now it is possible to write add-ins in the Python Language.
This is an excellent upgrade due to Python being one of the most popular platforms for Data Analysis and Visualization. It also includes data analysis tools like Pandas, SciPy, Matplotlib, etc.
MapInfo 2019 now makes SQL queries easy-to-use and is adaptable for different kind of users with the introduction of different SQL windows, such as Select By Location

,

SQL

and

Simple Select

.

Firstly, Select By Location allows users to more easily perform a spatial join between two tables.

Secondly for those who like a script editor, the SQL window is the best option.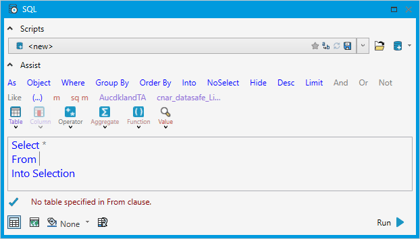 In 2019.1, the Select By Location dialog provides different output options: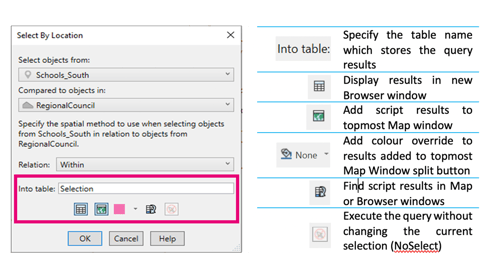 Whether you want to browse a table, add it to the current mapper, select an output feature colour, or name your new query, all of these can be done with just a few clicks
Geocode
Free credits have been increased to 2000 a month for those who hold either the Basic or Premium MapInfo Pro license.
Pack Tool Enhancements

. The renamed

Pack

function now has a drop-down list Mode with two options.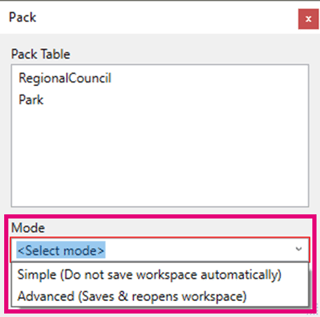 Rotate labels. If you have angles stored in a field, you can select this to rotate labels accordingly. Or you could type a fixed angle defining if it is either clockwise or counterclockwise.



MapCad Cell Tool
The MapCad Tool, Cell functions, used to insert a new (symbol) Cell into a map

have

been modified in this release to include better control of cell styles. A new icon is also added to make the function more easily recognizable.
MapInfo Pro Advanced
The Advanced version of MapInfo Pro 2019 introduced a new analysis tool that creates heatmaps based on point data. There are further enhancements on the

Heatmap tool

introduced in v2019.1.

The most comprehensive set of Heatmap tools is found under the Raster ribbon.



The simplified Heatmap tool found under the map ribbon (left image above) allows you to create a heatmap on the

selected data

. This means that you can select a field from the input dataset, and the value of this field will represent the number of samples at that location. Also, you can define a heatmap style.




Clipping

is now possible in the Heatmap tool. If you are interested in a certain area, you can select a polygon to define the extent of the resultant heatmap





Area of influence

. A slider can be used to determine the relative size of the resultant heatmap shapes. You can move it to the right or to the left indicating positive or negative values, respectively. Also, it means that the color transition will be either smoother (plus values) or more granular (minus values).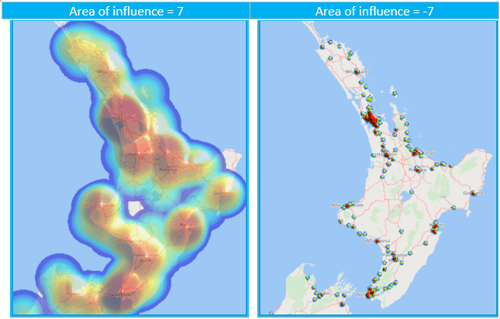 Raster Operations enhancements.

The Contour function (found under Raster Operations) now has a color-contour-matcher checkbox in the dialog, that will match the raster input color scheme with the output, giving the user more control to efficiently achieve the required styling.



Installation:
Be sure to install all updates including the 2019.2 patch, as this resolves some issues with version 2019.1.
Product Release Notes for further reference:
n

MapInfo Pro version
Link
2019
https://www.pitneybowes.com/content/dam/support/software/product-documentation/public/mapinfo-pro/v2019/en-us/mapinfo-pro-v2019-release-notes.pdf
2019.1
https://www.pitneybowes.com/content/dam/support/software/product-documentation/public/mapinfo-pro/v2019-1/en-us/MapInfoProReleaseNotes2019.1.pdf
2019.2
https://www.pitneybowes.com/content/dam/support/software/product-documentation/public/mapinfo-pro/v2019-2/en-us/mapinfo-pro-v2019.2-release-notes.pdf
Critchlow Geospatial has been providing the MapInfo suite of products to New Zealand and the South Pacific for close to 30 years. If your business could benefit from a MapInfo product, then get in touch with us today.