MapInfo Pro v17 is here and it's stronger, smarter and simpler thanks to you.
by Steve Critchlow, Group Managing Director, on 14-May-2018 10:29:00
The process of refining MapInfo Pro™ v17 was a little different than past processes. This time Pitney Bowes enlisted numerous beta users who tried and tested MapInfo Pro, working collaboratively to provide feedback through Li360 on what they loved, what they wanted to see more or less of, and how they wanted the solution to work for them.
The result? A new MapInfo Pro that is more user-friendly, faster and powerful than ever before.
What makes MapInfo Pro v17 stronger, smarter and simpler than ever?
Getting started with MapInfo Pro
Welcome screen
The new Welcome screen gives you immediate access to your recent work, as well as a library of regularly updated resources from Pitney Bowes' Li360 community.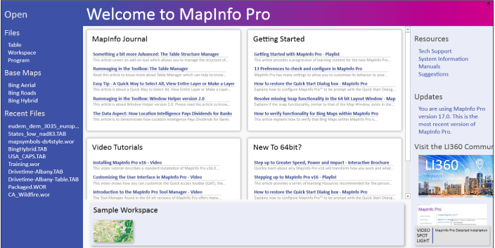 Quick Search
For those of you who haven't memorised MapInfo Pro's ribbon interface, the Quick Search capability shows you exactly where to find MapInfo's commands on the ribbon and, to make things even easier, you can launch the commands right from the Quick Search list. An enhancement that existing and new users alike will get immediate benefit from.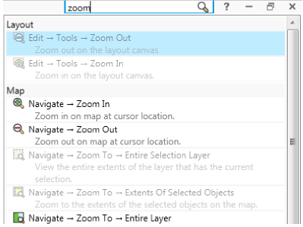 Mapping and Editing
Themes in the Layer Control
Individual Value, Graduated and Ranged themes are now displayed within the Layer Control. For Individual Value themes, you can now selectively turn bins on or off to highlight only the data the you want to draw attention to.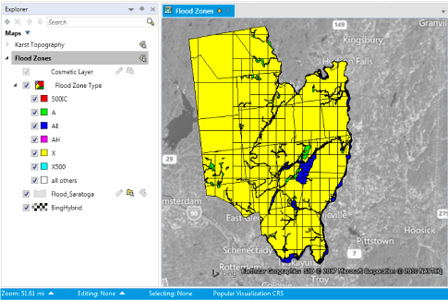 Map Toolbar Customisation
The Info Tool & Ruler has been added to the default mapping functions toolbar, you can now create and customise toolbars by adding your favourite mapping functions.
Data Editing - Reshape
Data editing using reshape is more user-friendly - reshape mode will now stay on until you manually turn it off.
Create Points
When creating points for a table you can now automatically add this layer to any open map or create a new map from the points.
Enhanced Image Quality
Bing Roads and Bing Hybrid users will enjoy updated imagery thanks to an upgrade to a more recent tile set. And 32-bit raster imagery is now supported, meaning better image rendering and the ability to use alpha channels in raster images.
Hotkey & Tools Improvements
The introduction of two new Hotkey functions allows you to automatically open the InfoTool and return to the Selection tool from a map.
Long-time MapInfo users will remember the Ring Buffer and Overview tools, which has made a comeback in v17, and MapCad tools now load automatically into the Spatial tab.
Raster/Grid
MapInfo Pro v17 continues to build on and enhance raster capabilities. You'll see better quality, smoother imagery and a better appearance when viewed at high resolution.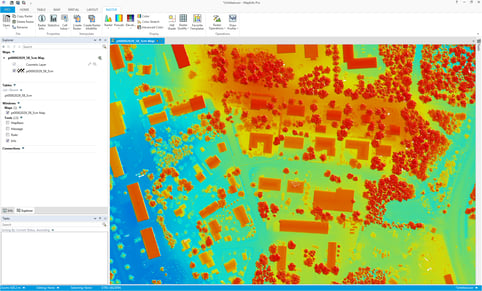 Other new Raster/Grid features in v17 are...
Warp Image tool to georeference images (such as scanned files) that do not contain any spatial reference information.
Polygonise - create polygons from raster data. For example, you could create a polygon version of a viewshed or a specific class of slope for hazard mapping and analysis.
The ability to align an input raster with the geometry of the primary raster based on its interpolation method and other properties.
Layout Designer
Layout Templates
Create and share your own layout templates in portable ".LAY" files and access/reuse them easily from your own layout template gallery.
Smart Text
Insert placeholders into your textboxes that are automatically updated when you use a template. Examples of Smart Text include the date, map name and the users name or company.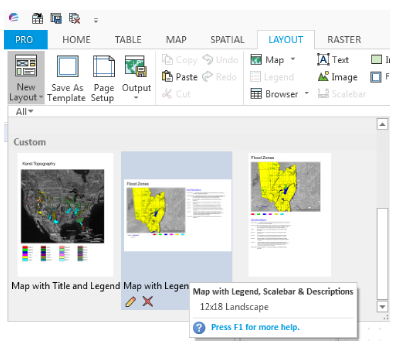 Smartguides
The addition of Smartguides and improved snapping makes it easier for you to align objects or snap them together quickly.
Paper Margin
The paper margin is now shown on the layout and you can now snap objects to the margin so they're not accidentally outside the printable area.
Layout Toolbar
Quickly style and edit your layout with the mini toolbar by right-clicking on any layout. Use as is, or customise to suit you.
Zooming/Panning
Moving around the Layout canvas is now easier with added mouse functions and a new "Fit Layout in Window" option that allows you to quickly zoom out and see the entire layout.
Frame Deactivation
Map and Browser frames can now be activated to directly edit them from within a layout.
Sharing templates within your workgroup (Publish)
A new Shared section in the Layout Templates gallery allows you to share your templates with members of your shared (workgroup) directory.
Sharing templates externally (Import/Export)
You can also share templates externally outside your organisation via email or posting online with the Export feature. Anyone with MapInfo Pro v17 can use the Import feature to import the template into their environment.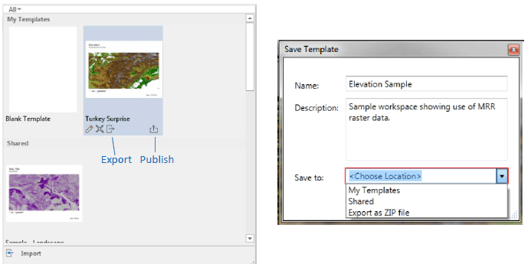 Geocoding and Drivetime Regions
These two new Add-in modules allow you to geocode tables of addresses or generate drivetime isochrones faster than ever before.
They work with existing Spectrum servers or the new cloud services and each copy of MapInfo Pro v17 comes with some free credits to get you started.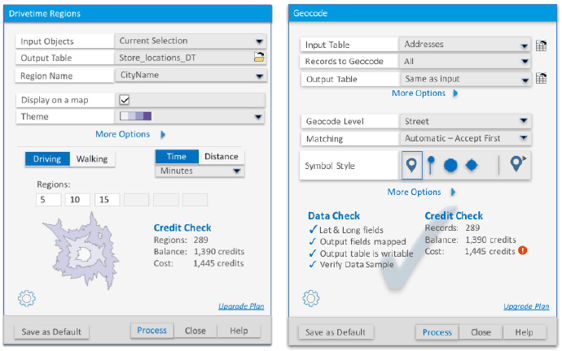 Want more detail on the latest version of MapInfo Pro? Download the v17 Features Sheet!
Or get right to it and download the free 30-day MapInfo Pro v17 trial (complete with Advanced).