The importance of accurate map data in route planning and optimisation
by Steve Critchlow, Group Managing Director, on 24-Mar-2021 13:58:20
Looking for ways to reduce costs, gain efficiencies and improve customer service?
Free mapping apps are useful if you're just looking to get from A to "somewhere near" B, and time and cost are not an issue (e.g. picking up a Trade Me purchase from the seller's home). However, accuracy and currency are not necessarily the strong points of free apps, which means that you could be staring at your destination from the wrong side of a busy motorway, or in the wrong location altogether. With New Zealand's road network constantly changing, and new housing developments proliferating around the country, there's a chance that the data used by the free app doesn't reflect the latest road network, or include new locations you need to find.
This is all frustrating enough when it happens to you in a private capacity, but when your business delivers or collects goods or provides on-site services, winding up at the wrong destination (or unable to even find it) costs time and money, and causes reputational damage.
The reality is that free mapping apps simply aren't always capable of providing the level of accuracy and currency that businesses need for route planning and optimisation. Nor do the suppliers necessarily have up-to-date knowledge of New Zealand's addresses, and road and transport network, both in urban and rural areas.
For a business that visits many destinations each day, arriving at the correct destination in a timely fashion is not the only criterion. Consider this scenario involving managing a city's waste:
A city council will contract out waste collection services to firms who will invest a significant amount of money in a fleet of trucks to collect, recycle and process waste, and employees to plan the routes and drive the trucks. Ironically, they face a 'waste' challenge of their own - the route plans for these mass collections. For example, one organisation that we worked with had overestimated their truck fleet requirements by a total of eight vehicles, representing a potential additional capital cost of $500,000 per unit, as well as $150,000 per vehicle in additional annual operating costs. It was the underlying data used by the route optimisation system that made it possible to reveal their true requirements and save them from making an unnecessary multi-million dollar investment.
In a recent blog, we gave an example of wasting time and money on 'the last mile' highlighting the impact on time and costs caused by inaccurate route planning. In this example, using a commercially free app, the driver has been advised that they've reached their destination of 392F Black Rock Road which is, in fact, 1.8 kilometres from the actual location. This error would add 3.6 kilometres to the forecasted journey, and $2.95 if paying car mileage at IRD rates. Meanwhile, the app is stubbornly informing the driver they've arrived at their destination, which only adds to the frustration.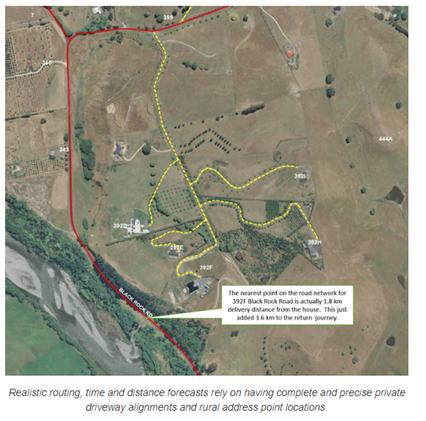 Mistakes like this are costly in time, money and reputation. If you've been experiencing this, it's time to ask yourself a few key questions:
Does your current solution manage the constantly changing character of New Zealand's road and address data? If it doesn't, then the chances of your drivers getting where they need to go by the most efficient route becomes increasingly harder.


Does your solution reflect private property access roads? Lots of Kiwis are choosing to live on the urban-rural fringe where property sizes tend to be larger, shared private driveways can be long and winding, letterboxes and access to those driveways may not be easily found, and driveways are commonly unsealed. In other words, your driver might be close, but they don't actually know where the exact destination is.


Is your current solution being constantly updated by geospatial data specialists who have local knowledge? For superior accuracy and efficiency, your data supplier must have a team of people that are experienced in New Zealand's entire road transport network and maintains a linked national address dataset.


When you provide feedback about the data, are they responsive in the timeframe you'd expect? You also have local knowledge. When you see something new that's not on the map, how easy is it to let your supplier know about it, and how quickly can they make a change?
If you've answered 'no' to one or more of these questions, it's probably time to consider more up-to-date, technically-advanced route planning and optimisation options. And to help you choose a data source for your solution, we've put together a new eBook that outlines the challenges delivery, collection and transport businesses face, as well as the essential factors regarding the geospatial data that needs to be considered when selecting a solution.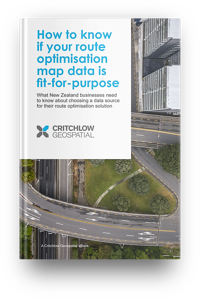 Authoritative and comprehensive geospatial data created in New Zealand for New Zealanders is essential for route planning and optimisation solutions, and one of the most important factors you need to consider if you're a New Zealand business that is selecting a route planning and optimisation tool (and if you want to learn about the differences between route planning and route optimisation - because there are some) - here's a blog post.