How route optimisation can grow your business
by Steve Critchlow, Group Managing Director, on 18-Aug-2020 17:14:22
Scientist and academic William R. Brody said: "Knowledge drives innovation; innovation drives productivity; productivity drives economic growth." No small business can afford to stand still and rest on its laurels. Markets are dynamic and constantly evolving; no matter how successful your product or service is, you need to continue to innovate if your small business is going to remain relevant and be competitive. Innovation is the hallmark of a go-ahead business, and as digital transformation continues to disrupt businesses of all sizes, now is the time to harness digital technology to enhance your competitive advantage.
The Covid-19 era has seen many small businesses add a delivery service to their offering, whether it's food or retail items. The challenge this presents is making sure delivery drivers can get where they're going the first time, every time. Otherwise, not only is time and money being wasted, but reputations can suffer as well.
How can route optimisation meet the challenges of business growth?
Route optimisation is the process of calculating and generating the best possible routes for drivers. It can mean significant efficiency gains, less time is spent planning, and drivers are able to reach all of their locations as swiftly as possible. Route optimisation also increases accuracy by ensuring drivers get to the right address every time.
Not only that, but businesses can experience a reduction in fuel usage, mileage and maintenance; fleets aren't overworked and stay in peak condition for longer.
As we'll demonstrate using a theoretical example, the right route optimisation tool will help you to increase your capacity, so you can boost your customer base and grow your business.
Having your cake and eating it too
Let's take a look at what a larger territory might look like for a fictional cake shop located in the Auckland suburb of Balmoral, on Dominion Road. They currently serve a customer base that's within a 2km radius of their shop - 12,090 dwellings. This is denoted by the green circle on the below image. But what if they were able to expand to serve a larger area? What would the potential growth be?
The yellow ring illustrates this potential. By extending to a 4km radius, the number of dwellings increases to 29,367 (an additional 17,277 dwellings) which is a 140 percent increase.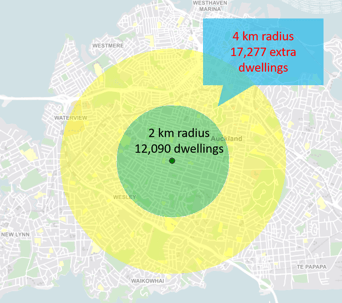 This is where the business growth can happen. Let's say that that the combined Order Value plus Delivery Fee is $55. If the cake shop is able to increase deliveries by six a day, using our Smart Routing for Small Business solution, they would generate an additional revenue of around $120,000 per year. Certainly not an amount to be sniffed at!
Using a route optimisation tool, the cake shop will be able to meet the challenges of increased demand from a larger territory. It's a systematic approach to enable them to use their resources wisely, and removes the guesswork from planning by knowing the exact locations and access points, and the best way to navigate there.
Nelson-based factory bakery FreshBake saw a significant rise in demand for their products due to the pandemic, but they didn't have a route optimisation tool available. The hunt began for a delivery route optimisation solution that would not only be able to cope with the high demand, but that would ensure accuracy of deliveries. Smart Routing for Small Business ticked those boxes, and FreshBake has enjoyed significant growth since its implementation. Says owner Shelley Sims:
"A smart route delivery planner is an integral factor on the path to growth, because it takes the guesswork out of order fulfilment."
The Critchlow Geospatial solution: Smart Routing for Small Business
We've developed this route optimisation tool for small businesses, recognising that they need help if they're going to meet the increased demand for home deliveries. The original goal was to help these businesses benefit by saving fuel and reducing emissions, but we've also seen that entrepreneurial business owners are using Smart Routing for Small Business to grow their businesses despite (and perhaps because of) these difficult times.
Smart Routing for Small Business combines New Zealand's most comprehensive and accurate address database with road and transport network data, automating the job of determining the delivery order, and providing the fastest route. It validates the amount of time the deliveries will take, enabling the cake shop to advise their customers on the expected delivery time.
With our Smart Routing for Small Business route optimisation solution, your business can replace hours of route planning work and eliminate the need for guesswork.
If your business offers a delivery service, route optimisation is a key tool that will boost business growth. You'll increase your delivery capacity while containing delivery costs, and that additional gross profit from increased orders and delivery charges goes straight to your bottom line.
Keen to see Smart Routing for Small Business in action? We've got a 14 day free trial so you can see first-hand how it can improve your delivery service.