How much time and money are you wasting using outdated delivery route design?
by Steve Critchlow, Group Managing Director, on 12-Jun-2020 11:36:52
"You have reached your destination." Five simple words that signify the end of your journey. Or at least, they're supposed to. However, if the free navigation app you're using is insisting that you're somewhere you're clearly not, then not only might you be lost, but if the purpose of your journey was to deliver goods or provide a service, then you're also experiencing what's known as wasting time and money on 'the last mile'.
In the wake of Covid-19, many businesses have added a delivery service to their offering. Whether delivering food or retail items, or providing a service, it's essential for businesses to be able to get where they're going first time, every time. Otherwise, not only is time and money being wasted, but reputations can suffer as well.
It used to be that when we needed to go somewhere, we consulted a flat, two-dimensional map. As technology evolved, we made use of Google Maps, GPS and other routing tools. However these aren't without their challenges, as anyone who has spent time arguing with 'the GPS lady' will tell you. To ensure total accuracy and timely arrivals, what's needed is the next level of technology and data for route optimisation.
Route planning can be a complicated beast, but at its simplest level, it comes down to:
Accurate address point location and its proximity to roads


Linking the address point to the most appropriate location or roadlink
That may seem straightforward, but when geospatial intelligence is applied against a backdrop of complex and ever-changing road and transport network and address data, it becomes increasingly complex. Getting from A to B to Z in a required timeframe isn't simple. With more than two million address points and over 110,000 kilometres of road network in New Zealand, the real world doesn't always play fair with getting you to the right location without spending those crucial last minutes of your journey trying to find your final destination. It's difficult to keep up with the constant change, with motorways and roads opening and closing, growth in the urban fringe, developments of new subdivisions, not to mention changes in driving directions and road speeds.
What this means for business owners that operate a delivery or collection service is an increasing challenge when it comes to deciding the best way to get from where they are to their next customer. It can be very time-consuming determining the optimal routes manually, or with an application that is not designed for New Zealand.
For example: using a commercially free app, this driver has been advised that they've reached their destination of 392F Black Rock Road which is, in fact, 1.8 kilometres from the actual location. This error would add 3.6 kilometres to the forecasted journey, and $2.74 if paying mileage at IRD rates. Meanwhile, the app is stubbornly informing the driver they've arrived at their destination, which only adds to the frustration.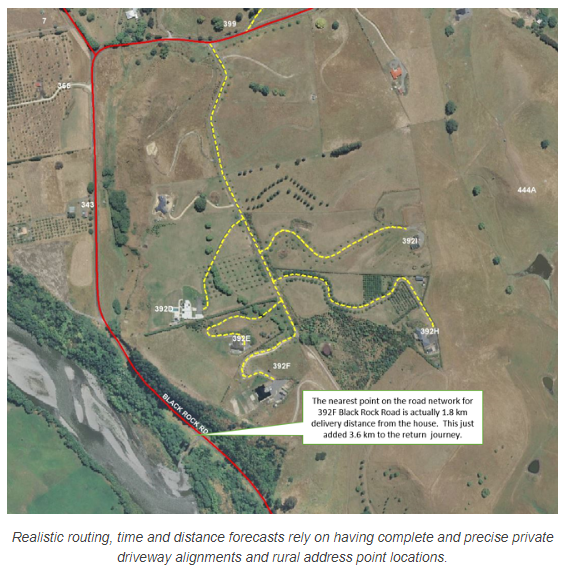 What if this was an occurrence that happens several times for each run? It doesn't take a maths whiz to realise the cost in terms of time and money, not to mention compounding reputational damage as customers begin to see the service as unreliable.
The solution is down to harnessing the kind of technology that uses geospatial intelligence to optimise routing. Imagine if you could deploy an application that would take into account factors such as driver/vehicle availability, vehicle capacity, road conditions, time constraints (such as start time and delivery timeframe), and more. Not only would deliveries become more efficient, accurate and timely, but the business would reap rewards such as fuel emission savings and productivity improvements. Plus, they could determine their fleet requirements with greater certainty, saving capital investment and annual operating costs.
Well, we've thought of all of that, and have developed Smart Routing solutions that take these into account. Our Smart Routing solutions ensure drivers get it right first time, every time. They are location intelligence solutions that automatically generate the optimal route design, meaning businesses that operate a delivery or collection service, or are a service provider, can save time, money and resources.
Our Smart Routing for Small Business solution is especially useful for businesses that make deliveries in one vehicle to many destinations, because they need:
A clear map of their locations (especially useful in rural areas)
To know the order in which to pack their vehicles
To know how long each run should take (and let their customers know when to expect them)'
To calculate the mileage
We also have a solution for organisations that have larger fleets and have complex needs such as optimised routes that reflect contractual constraints such as:
Left-hand pick-ups only
No right-hand turns
Tunnels are not used
Our Smart Routing solutions:
Take New Zealand's best road and transport network data from NationalMap, validates the delivery destinations using New Zealand's most comprehensive address data and automates the design of each multi-destination route; and


Determines the most efficient way to deploy expensive resources so that businesses can more easily take into account factors such as availability, vehicle capacity, driving conditions and time constraints (such as start time, delivery timeframes and driver breaks).
Our Smart Routing solutions are flexible whether the business is operating a large fleet of vehicles, or a wholesaler with just one or two vans on the road.
If you've been wasting time on that 'last mile', it's because you don't have an efficient route optimisation solution in place. Think of the time and money it's costing your business - it might even have cost you customers. Consider the additional profit that would come from your ability to increase the number of deliveries per kilometre that you're driving. To really optimise your service, you need to talk to us. Critchlow Geospatial is a New Zealand owned and operated company that understands the importance of getting destinations right first time, every time. We can help ensure your deliveries add to your profitability, not detract from it.
If you've been challenged by the task of figuring out optimal delivery routes for your business, fill out this form and we'll be happy to have a chat.