How can consumer data be used to create market profiles?
by Steve Critchlow, Group Managing Director, on 25-Jun-2014 14:00:00
In such a competitive industry like retail, businesses need to put their customer and transaction data to work – to enhance decision support to gain competitive advantage. It is imperative a business understands the relationships between trade area demographics, customer profiles and competition for prime site selection and business growth. This information in-turn formulates the value of an area for a business's products and services. With it retailers can generate more accurate site-specific sales forecasts and create a compelling customer acquisition strategy.
So what different types of consumer data is available for market profiling?
Loyalty program data (e.g Fly Buys, Onecard)
Lifestyle and attitudinal segmentation (Helix Persona's, Mosaic)
Census Data
Loyalty program data
If an organisation runs or is able to access loyalty program data then it has access to one of the richest sources of customer insights. Loyalty programs allow retailers to understand what types of products individual shoppers are purchasing and then create marketing and promotional offers relevant to that particular individual. To gain real insight from loyalty data it is vital that the addresses of the members of the program are geocoded. Geocoding of the customer or member location allows the member spend and demographic data to be aggregated and analysed at a store trade area level to enable decisions to be made about what volume of stock to carry for particular lines and how best to promote the products at a store level or regional level. Aggregated loyalty data also enables insight into the effects of potential store cannibalisation by the introduction of a new or competitor's store when looking at trade area analysis.
Lifestyle and attitudinal segmentation
Segmentation data is the output of models that combine data from a wide variety of sources such as Census, household expenditure, property rating and psychographic, behavioural and lifestyle surveys. The output is a dataset that classifies the population into groups or communities often at a meshblock level or sub-meshblock geographical level. Customer or loyalty program data is often either enriched or substituted by using lifestyle or attitudinal segmentation data. Where no loyalty program exists segmentation data can be used to define the concentration of certain segments within catchment areas. Where loyalty program data exists and it has been geocoded it can be matched to the segmentation profile for that location so that the market penetration for a particular trade area and persona can be calculated. Ultimately the use of segmentation and loyalty data is about defining the profile of the most profitable customers and then identifying where in the market there are others like them.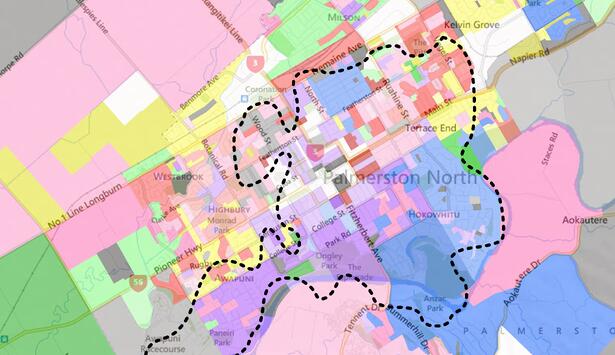 Sample store catchment and segmentation model data.
Census Data
Though the primary purpose of the Census is to provide a population count and planning resource for government, in recent times the information collected has been used increasingly by market-focused organisations to enhance their marketing, customer insight and operations functions. It is one of the core datasets used to build segmentation models. Many organisations don't need the deep insights offered by segmentation models as their target markets can be clearly identified by a handful of Census variables.
By aligning their store presence with concentrations of desired demographies, retailers can ensure they are best positioned to reach their target markets. Using location Intelligence tools to understand how big the market in the catchment is, geomarketing-savvy organisations will often profile store catchments with Census data to get a rich understanding of the local market. They will then target customers through any of the channels in the traditional marketing mix, such as unaddressed mail, or more surreptitiously through placing products that appeal to the catchment demography.
Market profiling can be done by matching another of Statistics New Zealand's products, the Household Economic Survey (HES) – most recently completed to the end of June 2013 – to the Census data. The HES reports the weekly spend across various expenditure categories for different demographics, such as that the most affluent households spend $50 a week on personal care, compared to $12 for the least affluent. Matching these to the meshblock Census data provides valuable metrics around market sizing and market share approximations.
In summary
For many retailers the old adage holds true: birds of a feather flock together. With all these datasets integrated with customer and transaction data and visualised using location intelligence software, retailers can discover high value customer clusters in their catchments and where there are potentially more clusters just like them. Of course, how you use your customer data to create market profiles is only one of a number of questions you need to answer when deciding on retail network changes. To read more on these questions download the white paper: New Location Perspective in Retail: In the Zone