How business decision-making is improved with location-based data
by Steve Critchlow, Group Managing Director, on 14-Oct-2019 10:39:00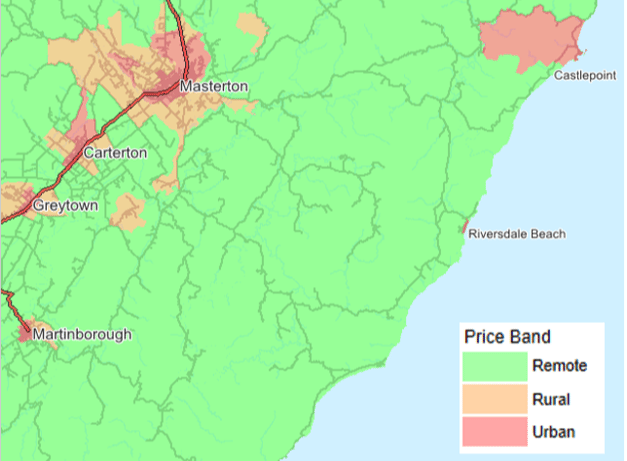 Opportunity Density converted to price bands.
''Policy on a map'' is a new white paper that looks at the impact spatial intelligence can have at all stages of the policy process
When one of Critchlow's private sector clients was facing challenges around pricing its service delivery across the country, they began looking at ways of building a policy that ensured a consistent pricing regime. This was easier said than done, as the client provided its services across a wide range of residential customers - urban, rural, and remote.
Critchlow's solution, known as Policy on a Map, brings together critical data, enabling our client to understand and interrogate different aspects of place, location, and time through spatial visualisation. A spatial analysis model was used to reconfigure the notions of urban, rural and remote, meaning it no longer mattered how far the business has to travel to get to their customers; what became more relevant was how big the market is when they get to the particular area.
The result was a realistic pricing model, and a better understanding of the size of their market opportunity.
Critchlow's collaboration with this private sector client is outlined in a new white paper, Policy on a Map. It's aimed at helping management teams, IT Managers, and Operations Managers who are charged with the development, consultation, implementation and reporting on policies.
The white paper details several key areas, including:
The five principles of Policy on a Map - the five standard policy areas and all stages of the policy process:

Policy design
Policy impact analysis
Policy resourcing
Policy governance
Financial management

Extracting the nuggets of gold - bringing together all the data that is critical to a policy.
Real-world examples – along with the private sector client's spatial analysis model, the white paper outlines the Ministry of Education's Student Transport Route Optimiser.
Data, technology and spatial expertise are essential components when making evidence-based decisions for policy design. What we've found is that if businesses put their policies on a map, they experience benefits such as increased efficiencies and reduced costs, along with an enhanced customer experience.
Critchlow's know-how helps customers build better policies. By enabling customers to test as many scenarios as are needed, they are able to identify and put forward the best policy options.