Gut Feel and Spatial Modelling: A Match Made in Retail Site Selection Heaven
by Steve Critchlow, Group Managing Director, on 16-Dec-2015 11:16:19
Is Gut feel enough?
I trust my gut – if I'm feeling uneasy or super excited about something, the feeling hits me there first. Using that gut feel or intuition (which I believe is based on our values and experience, our perception of the world) brings all the senses into one moment of decision making.
Many business decisions have been made on gut feel: choosing a retail site, fitting out a store, hiring staff. Expert experience, combined with trial and error to see what works, has informed much of our current built environment.
What if we add spatial modelling?
But what about the hidden factors only accessible through analysing data? If you're seeking to achieve an 'all-seeing-eye' view over your business environment, a great start is to combine your team's expertise and gut feel with the available data.
Combining your gut feel with quality data and spatial modelling leads to more robust decision making. For example, when choosing a retail store location, you may want to site your store on a road which is busy. A busy road means lots of people will see your fabulous and enticing store with its awesome branding and will pop in for a visit.
Your gut feel may be that a particular road is busier than an adjacent road. Looking at the road data will allow you to quantify how much busier. Using vehicle speeds, congestion, traffic flow, vehicle numbers and bus or transit routes, we can go into far more depth on how people are interacting along that road. Knowing who those people are and how they interact with the space then allows you to tailor your retail space or marketing materials to target those people. It also gives you the numbers to quantify and prioritise investment into that space.
Modelling Christchurch: Attractive retail sites
Our customer had a strong gut feel about where to site their retail locations for the growth of present-day Christchurch. However, they wanted to quantify this and wanted to understand if these sites would still be attractive retail spaces in five to ten years' time. Their experts all had different opinions on how the city will change over time, so they came to us at Critchlow for help.
The Christchurch earthquakes of 2010 and 2011 have resulted in significant changes in the demographic, commercial and retail business environments. The city may be growing in locations right now that will be different in 10 years' time and different again in 20 years' time, as investment and rebuild influence its shape.
To find the answer to this five-to-ten-year time frame, we created a model of the future using spatial datasets to quantify the business experts' gut feel. We sourced and created datasets, including which suburbs are prioritised for Council investment and the locations of greenfield sites which have been rezoned for future development. Critical information such as where people live and work, and where the key transport links into the city are, were included in the model.
Modelling can delve into the finer details of what is happening right now and take us into the future to test different versions of what might change. Data can shine a bright light on what can be a blind spot, such as competitor and buyer behaviour, both of which can hold a lot of unknowns. Insights such as which types of customers are high churn and whether the customers of high value live or work close together.
Once we had created the first cut of the model we could clearly identify the parts of the city that are going to be attractive places for a retail site. An attractive site means they are close to their target audience and customer base.
In the map below the census Meshblocks show you the resident or night-time population – that is, people's homes and where they spend their evenings and weekends. Meshblocks are the smallest areas used by Statistics New Zealand to collect statistical data. This is just one of the data inputs we used in our model. The red areas are high counts of people, the green areas are low counts of people. We ranked the census Meshblocks from 1 (low counts) to 5 (high counts).
Ranking of Resident Population by Meshblock in Christchurch, New Zealand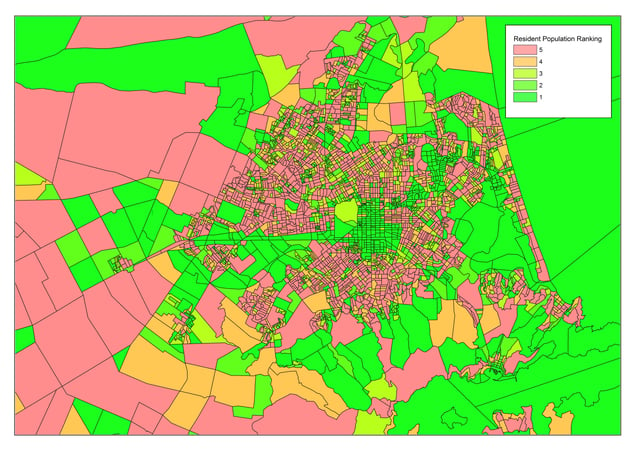 Once we had created the initial model, we were easily able to experiment and try different versions, to show day versus night populations or to prioritise different suburbs. Significantly, the 'most attractive' results changed slightly with each version. This approach therefore allowed the decision makers who commissioned the model to explore their opinions on their target audience and how they wanted to reach them. It also allowed them to explore which of the model inputs, such as resident population, are the most important to the attractiveness of the sites.
Making the best business decisions
The model was deemed successful by the decision makers who commissioned it because it quantified their gut feel. It also added extra value as it ranked the sites by attractiveness, so our client will be able to prioritise their on-the-ground investment.

That gut feel, based on our values and experiences, that we all use in decision making is the cool part of being human. It's why we can't use data, modelling and Artificial Intelligence (AI) to determine everything. Your gut feel and experience can't be fully replicated in a model. However, where you can validate some of your gut feel with a model, you will be able to provide 'the numbers' that a management team needs to make their decisions from.
We help our customers to make the best business decisions by understanding and listening to our customers' expertise, quantifying their knowledge and capturing the evidence as spatial data. We then use this as a basis to create models of what the future could look like.
Make sure you check out another example of how we've used spatial modelling to help one of our customers create an opportunity-to-see (OTS) metric for measuring the impact and reach of outdoor advertising.