5 Datasets for Evaluating Retail Site Infrastructure Characteristics
by Steve Critchlow, Group Managing Director, on 01-Jul-2014 16:13:00
Location Intelligence can be used to consider how different characteristics of proposed locations align with the organisation's business needs. Organisations may classify retail site desirability, based on its centrality and accessibility within a region whose residents share common demographic and behavioural attributes.
Depending on the target market, different infrastructure issues have to be considered. If students are the target market for a retailer, then being close to public transport is essential. If targeting older demographic then good parking options, easy store access and close public transport access would be important. Or perhaps you might be targeting convenience purchasers on their way home from work. The store therefore, should be located on a main thoroughfare.
The key to making good decisions about the infrastructural issues of potential sites lies in having good quality spatial data to enable you to make robust decisions based on fact – to support 'gut feel'. So what are some important datasets needed for evaluating the infrastructural characteristics of potential sites?
Road network – (especially hierarchy)

Traffic counts and flows

Public transport routes and stops

Building foot-print data

Built-environment (car parking facilities, schools, shopping centres, leisure facilities etc)
Road network
Understanding the road network in the proximity of a given site allows for analysis of the features of the built environment that may influence the flow of traffic to that site. If you are looking at a large multi-tenanted site that has a large trade zone then easy access on and off major arterial roads is going to important (think Syliva Park in Auckland). If you are opening another Hell's Pizza outlet then your location should be easy for the local residents to access and being close to a motorway interchange is going to be far less important.
Traffic counts and flows
Knowing the seasonal and hourly vehicular and pedestrian traffic flow to and around any potential site is going to greatly enhance your understanding of site potential. Think of the northern end of Wellington's 'Golden Mile', one of the busiest sections of pedestrian space in New Zealand during the daytime but virtually empty after 7pm: A prime location for a bookstore but not so great for a restaurant. The explosion of 'sensors' in smart phones and vehicles has led to a huge increase in the availability of micro-level vehicular and pedestrian flow data for analysis.
Public transport routes and stops
In the 12 months from May 2013 to May 2014 there were over 12 million train journeys on the train network operated by the Greater Wellington Regional Council*. As a significant number of journeys start and end at the Wellington Railway Station, Metro New World is in a prime location to capture those last-minute items on the way home from work. Knowing the mode of transport that your target market uses and the nuances of the network is a significant component of evaluating site infrastructure characteristics.
Building foot-print data
Advances in geospatial technology and in particular the automatic processing of aerial imagery have allowed for complex datasets such as building footprints to be created with little manual effort. Building footprints can be used in a number of ways to profile and assess site infrastructure characteristics including:
Planning:

If someone wants to put in a new building, they can perform initial research to find where existing structures are that may constrain their plans.




Visualisation/Simulation

: If someone is creating a 3d model or fly-through of an area, an extrusion on the building footprints vs the entire property, will give a more representative simulation.




Analysis:

Line of sight analysis for future development. If you are designing a building having footprints will allows you to analyse more accurately what will or won't be visible. This can also be useful for property valuation and sales purposes.




Public Works/Public Safety:

Knowing where structures are located can show where access to parts of property is constrained.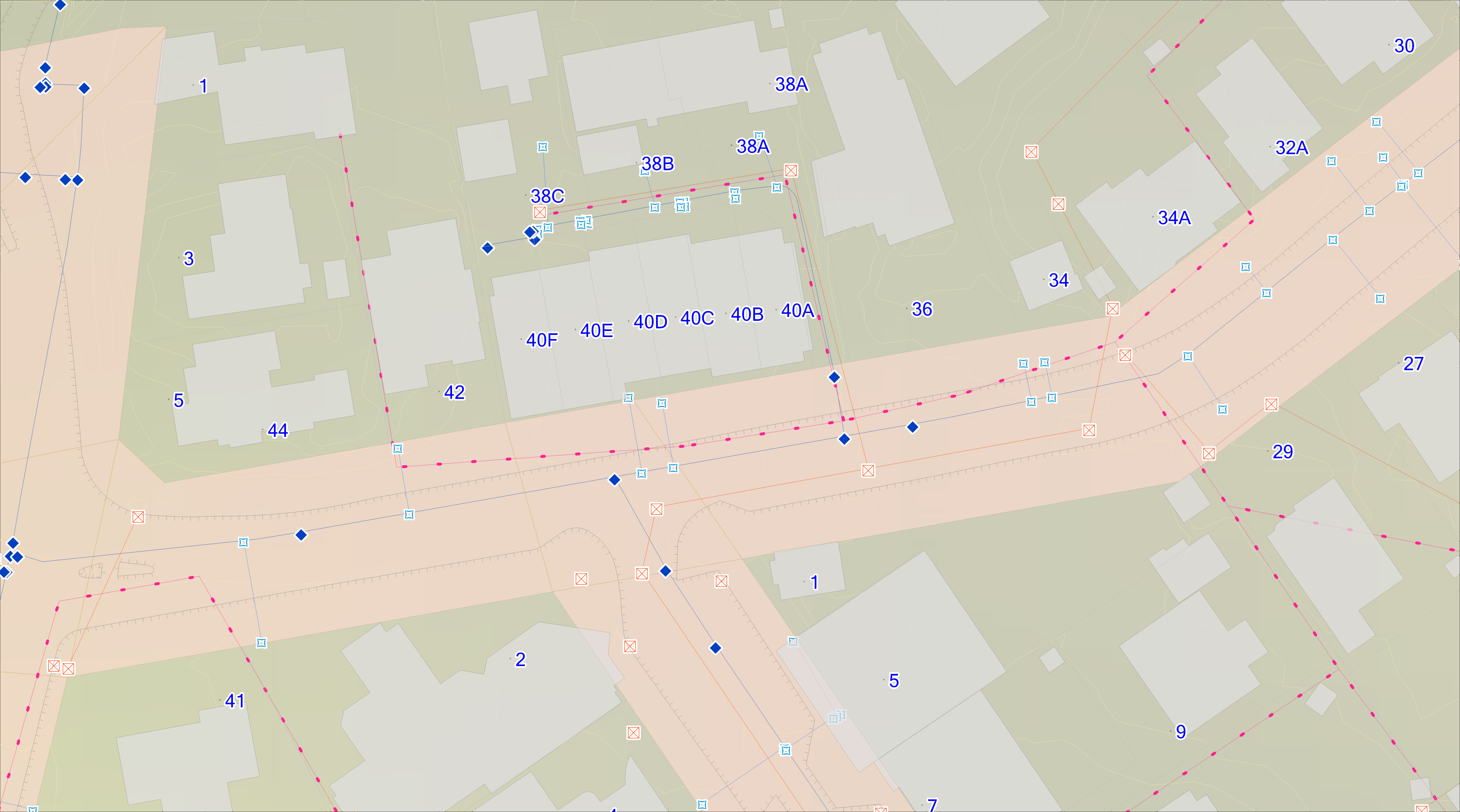 Built Environment
This is a bit of a catch-all as it depends on your business and your target demographic. However, if you can think of the data it probably already exists in a geospatial format - and can be used to help understand the infrastructure characteristics of a location. Locations of parking facilities, schools, parks, horizontal infrastructure (water supply, storm water drainage, waste water drainage systems and roads) among others help to build a picture of the strengths and weakness of a location and to understand it's impact on the catchment areas and market profiles.
Location Intelligence applications are perfect for analysing these disparate datasets and forming a collective picture of the relative merits of all potential sites. Of course, evaluating retail site infrastructure characteristics is only one of a number of questions you need to answer when deciding on retail network changes. To read more on these questions download the white paper: New Location Perspective in Retail: In the Zone
*

http://www.metlink.org.nz/customer-services/public-transport-facts-and-figures/patronage/