by Steve Critchlow, on 18-Jul-2012 04:43:00
One of the most underused but powerful tool sets in MapInfo Professional are the MapCAD tools. MapCAD is a powerful set of "CAD like" drawing tools that extend the standard MapInfo Professional drawing functionalities to make working with graphical objects even easier.
Since version 9.5 of MapInfo Pro, uses have had access to 40+ for designing and manipulating map objects. With the move to the ribbon interface in v12.5 The MapCAD tools were revised and integrated into the default ribbon tabs when the tool is run.
Loading the MapCAD Tools
The MapCAD tools can be loaded by going to the Tools menu and accessing the Tool Manager. Once inside the Tool Manager you will have the option to load and Autoload the MapCAD tools. Once loaded you will see additional tools in the MAP and SPATIAL tabs in the ribbon.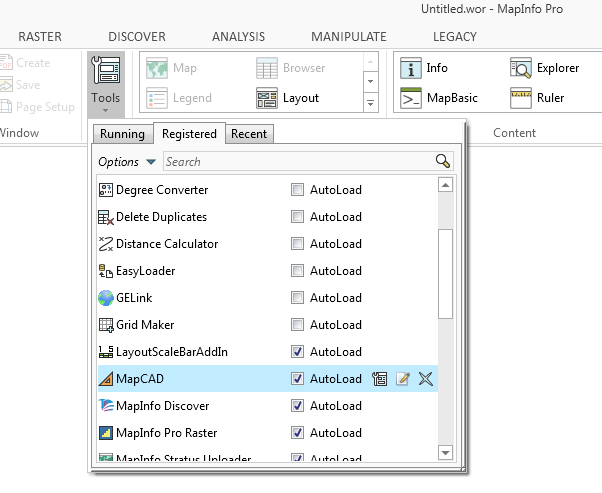 Most of the MapCAD tools are added into the Clipboard, Create and Edit groups of the SPATIAL tab and can be grouped into the following categories; object styles, object translation, object measurement, object alignment and object creation.
You can access the help file for the MapCAD tools by going into the backstage area (the PRO tab) and selecting MapCAD from the Options menu. The how-to-use MapCAD tool box is a great resource for understanding each of the tools and where to find them on the ribbon.
Some of the most useful tools are;
The Dimension Line tool (annotate lines & polylines with measurement values, useful for marking up buildings and other structural objects)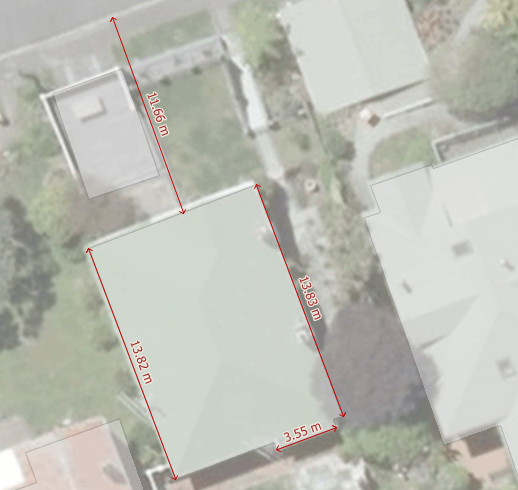 The Select by Style tool allows you to select similar objects to the one selected in accordance with a combination of pattern and style parameters. This tool can act as a great QA tool for ensuring that the style of your map objects is consistent.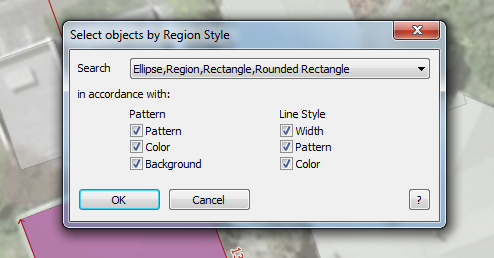 The Create Parallel tool is simililar to the buffer tool in MapInfo Pro but it provides finer control on how the new objects are created. This tool is useful in a planning scenario if certain off-set requirements for building or modifications need to be tested. The image below shows an example of a new object (peach colour) created of the selected (purple) object. The overlap with the object below shows how this tool could be used to help planners.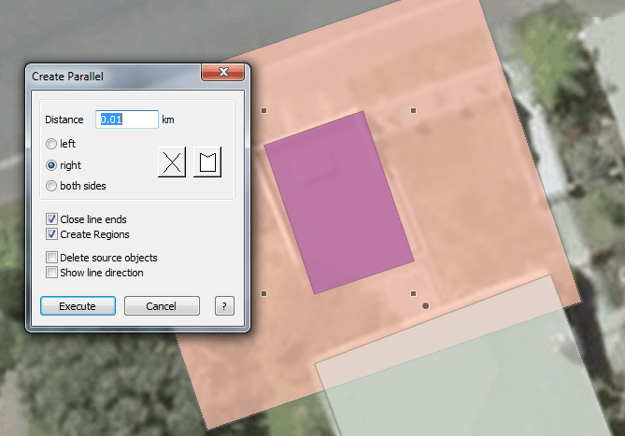 There are plenty more tools, so try them out and let us know which ones are most useful to you. And if you haven't tried the new Ribbon based MapInfo Pro, download a copy from the link below.