See it faster, solve it sooner with MapInfo Pro v16.



The world's premier desktop GIS just got simpler, faster and smarter in the latest release.
Enhanced in so many ways, the new MapInfo Pro software lets you visualise data and capitalise on those insights in less time than ever. It's never been easier to be more precise, productive and successful.
Visualise data your way, right away.
What's new in MapInfo Pro v16?
Fewer clicks, more answers: A new interactive interface for thematic mapping gives you the ability to modify and update maps directly from the ribbon.
Total data compatibility: Support for the latest OGC standards makes it easier for users to share maps and location data.
Visualise in less time: Improvements to the Layout Designer reduce the time it takes to create and improve the quality of cartographic map output.
Turn insights into action: Designed for interoperability, you can easily integrate MapInfo Pro with your existing GIS and IT systems.

What's new in MapInfo Pro Advanced v16?
Go big: Create grid files from multiple files at once so you can efficiently process, visualise and analyse datasets on a continental or global scale.
Zoom in for details: Zooming in beyond the base resolution of the source file? No problem. The new display resampling method enhances and smooths data as you zoom.
Power up your analysis: You'll now have access to line-of-sight analysis/point-to-point visibility. By taking into account terrain and elevation, you can understand whether a given point is visible from another point.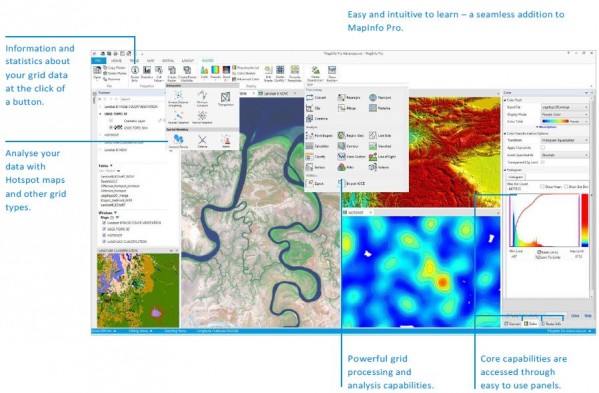 Want to see what MapInfo Pro v16 has to offer in more detail? Check out the New User Interface Features document here.
Or, if you're ready to get stuck in, download your free trial of MapInfo Pro v16 now!