"Our 2006 analysis took a large team over four years to complete.
Using our new tools, an individual can analyse the entire Auckland
region in one to two days."
Regan Solomon, Team Leader Land Use, Built Environment and Infrastructure Research
Auckland Council has historically used a labour-intensive and time-consuming method of understanding the region's land development potential - a process which involved manual interrogation of every one the region's 438,000 land parcels. This methodology lacked the ability to examine the impact of different planning scenarios and failed to offer city officials timely information for planning and analysis.
The replacement solution needed to be flexible, scalable and offer timely results. The solution also needed to consider not only the different zone regulations for each land use type, but the different planning regulations from each of the eight preceding local authorities that merged in November 2010 to form Auckland Council.
Read this case study to understand:
How FME was used to make sense of the complex array of variables in this analysis
How the analysis has provided a more robust evidence base for Council
Why Auckland Council partnered with Critchlow
The awards that Auckland Council has received for the solution.
---
Geospatial analysis makes easy work of understanding land development potential.
The Challenge
The Capacity for Growth Study was undertaken to collect data and enable the analysis assessment, monitoring, and reporting of the Auckland region's capacity for growth.
The model, which was initially piloted on a single Auckland suburb, and later rolled out to the entire region, reported the additional number of dwellings that could theoretically fit onto residential zoned land (both infill and redevelopment), as well as capacity for business development (reported in square metres).
The study needed to assess around 437,800 individual sites, many of which need to be assessed two or three times, to determine the potential for the different types of growth categorised in the study: "infill" capacity, "vacant potential" capacity, or "redevelopment" capacity.
Like any large city, Auckland has a wide variety of land uses – from residential, commercial and industrial, to rural farms and lifestyle blocks – and the model needed to be able to treat each of these groups differently.
Not only did the model need to understand the zoning regulations for each of these land use types, it also needed to consider the different land use regulations for each land type, from each of the eight preceding local authorities that merged in November 2010 to form Auckland Council.
A previous study examining land development potential didn't easily accommodate what-if scenario planning, and had taken approximately four years to complete using a large project team, so the Council needed a more efficient, less time-consuming means of assessing the city's capacity for growth.
Solution
The model was collaboration between Auckland Council and Critchlow.
Critchlow's Mike Oberdries, who was technical lead for the project, explains that one of the core problems for the model to address was identifying the infill capacity of an individual land parcel.
"When an urban landscape is presented as a map it is relatively straight forward for the human eye to quickly identify where the capacity exists. Bringing automation to this type of analysis with an algorithmic approach is rather more difficult."
Identifying infill capacity equates to determining the space within which an additional dwelling(s) can be placed on a parcel of land. The primary focus of the model was bringing automation to the identification of potential "compliant" sites adjacent-to, in-front of, or behind existing dwellings.
In this context, Mike says compliance means meeting planning constraints, shape factors and accessibility criteria specific to an individual land parcel.
Land parcel polygons, zoning polygons, zoning designations, building footprint polygons and an array of lookup tables that capture the planning constraints specific to the nine district plans operating in the region comprise the model inputs.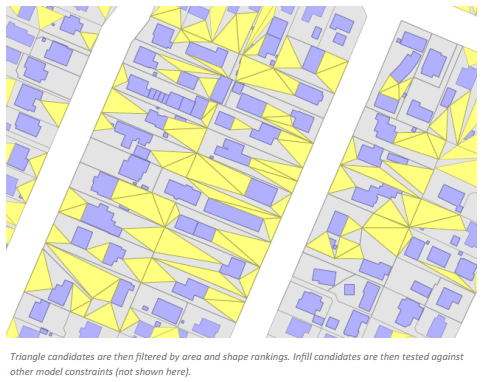 "From these datasets a residual vacant capacity can be determined for each and every land parcel.
"Capacity candidates can then be qualified against site-specific planning regulations and prospective development sites can be further interrogated against prescribed shape factors.
"Most land parcels with capacity already have established buildings on them so these sites had to be further qualified for site access potential. For those candidates that tick all the boxes a development yield is derived, and these measures can eventually be aggregated from the parcel-level to the city-level.
"The algorithms we've developed are quite sophisticated. For example, the infill capacity candidates we derive are 'site-access and shape-factor aware' meaning that land parcels that deliver sites without access or without a formfactor that offers a viable building platform do not contribute to final capacity yield determinations," says Mike.
FME Desktop was chosen as the core platform for developing the model.
"It's powerful spatial data transformation capabilities and its ability to scale complex geo-processing tasks across large datasets made it the best option for this project," says Mike.
Business Benefits
The organisational benefits are significant and far reaching, with visibility of the model's outputs extending well beyond the Land Use, Build Environment and Infrastructure Research Team who commissioned the research, to council executives and city planners as well as the Auckland public.
City planning officials are using the model as a base source of information for other studies and as a tool for indicating the effects of various policies particularly those around subdivision and development.
"The solution is flexible, scalable, and transportable. It provided benefits
and cost savings and dramatically shortened the time needed for analysis."
Comments from ALGIM Judging Panel on the Capacity for Growth Study
Regan Solomon, Team Leader Land Use, Build Environment and Infrastructure Research, explains in the presentation to the ALGIM GIS award judges that the new model offers significant time and resource savings over the previous manual model.
"A similar 'Capacity for Growth' project was undertaken in 2006. While our analysis back then was augmented by GIS tools it still required every land parcel to be manually interrogated in turn. This analysis took a large team over four years to complete. Using our new tools an individual can analyse the entire Auckland region in one to two days."
The ability to re-run the model with different parameters to test the impact of proposed future changes to planning rules (such as shape or size of the minimum-building-platform) is expected to be a huge advantage for the Council, as city planners can now quantify more accurately the effect of a proposed change to the planning rules on development capacity.
The model has given Auckland Council a more thorough understanding of development potential, and model outputs will now become a significant component of the Council's evidencebase, and will provide a platform for further research.
Award Winning
The Capacity for Growth Study won the 'Building Organisational Capability' category at the 2013 SOLGM Local Government Excellence Awards.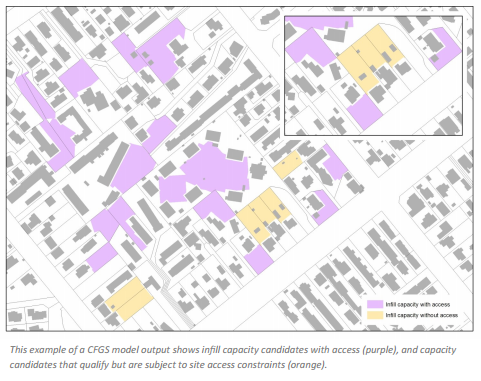 The project also took out top prize at the 2013 ALGIM Local Government GIS Awards, with the ALGIM judging panel praised the technology for being "flexible, scalable, and transportable," adding that it "provided benefits and cost savings and dramatically shortened the time needed for analysis".
"We're proud that the innovative work that Auckland Council is leading has been recognised by the industry," says Regan.
About Auckland Council
Covering almost 500,000ha, Auckland is New Zealand's largest city and home to a third of the country's population.
Auckland Council is responsible for the natural and built environment and provision of amenities and resources to Auckland's 1.4 million residents.
About Critchlow
Critchlow is a pioneer in New Zealand's spatial industry, and has been providing innovative geospatial analysis and solutions to clients in New Zealand, Australia and the South Pacific for more than 20 years.
From offices in New Zealand and Australia, Critchlow's team of experienced analysts, developers and consultants specialise in providing services in these areas: geomarketing, emergency management and geospatial data and solutions.