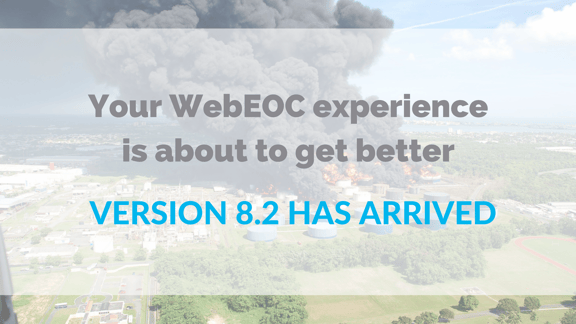 The release of WebEOC v8.0 was the biggest and the best yet. It wasn't just another version, it was a whole new WebEOC and the feedback we've had from customers about it has been fantastic.
If you haven't yet upgraded, here's why you should.
But if you're already on the 8.0 (or 8.1) bandwagon, you'll be pleased to know that v8.2 is here and, as always, its prime purpose is to make your WebEOC experience easier, more user-friendly, and better than ever.
Let's take a quick look at some of the features you can expect in the new release...
User Features
Big, small, interactive... view your boards how you want to.
Need more screen real estate? No worries. The new Full Screen mode offers up a bigger viewing and working platform for you, hiding the header and open tabs bar.
Need to show your boards to the entire Emergency Operations Centre? Easy. Just project onto your Centre screen and activate Presentation mode by clicking the play button. You can now automatically scroll between boards, pause, and set the transition speed from one board to the next.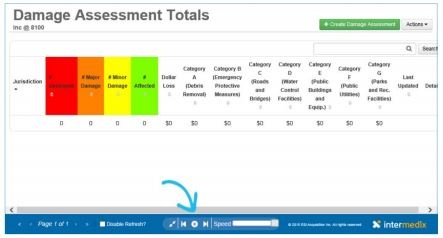 Close all your tabs with one click.
Thanks to the new Close All Tabs option, you can now close all your tabs simultaneously. This option is easy to locate and access at the end of the Open Tabs menu button.
Sending a message? Find users quickly.
So you're in a hurry to send a message but don't have the time to hunt down your recipients' unique WebEOC usernames? Great news, you no longer have to! You can now search for users by their names (as well as usernames), making the whole process much easier and much faster.
Menu updates are visible immediately (even moreso than before!)
We all love the star that shows us if new data has been added to a board, right? Well, v8.2 takes that notification one step further. As well as the star, when a board assigned to a menu has been updated with new data, the control panel icon turns light blue, letting you know immediately that something has been changed or updated.
Simulator got a (inter)face lift.
User experience is now far more friendly in the Simulator tool. Perhaps the most noteworthy changes are the styles - they now align with the styles introduced in the WebEOC V8.0 user interface.

One session, and one session only.
We've all done it - logging into a new session when they current one is still going, therefore logging yourself out of your current session. Now, if you open up a new session when you're already logged on in another tab or browser window, you'll be prompted to either continue logging into the new session (therefore logging you out of the current session) or close the new session to remain in the existing open session.
Control panel notifications are now clickable.
If a status board-generated notification shows up on the control panel, just hit the new clickable link and you're away laughing. (In other words, that link will take you to the board record so you can view and interact directly with the original status board).
Administrator Features
The position creation process just got faster.
There's no need to create a position from scratch anymore, you can now copy an existing position, duplicating the position's name and group assignments. You can then fill in assigned users, PAC codes, comments, and colours manually to differentiate the new position from the copied one.
Make the most of the new REST API.
You can now exchange data with external applications with the new Representational State Transfer (REST) Application Programming Interface (API). Designed with the user in mind, it's easy to use, understand and document, and is an intuitive alternative to the existing SOAP-based API.
You can now pass string values through viewlinks.
A new <viewparameter> element allows arbitrary parameters to pass from one view to the next using a viewlink. Not only does this help support more advanced board building, it also makes the parameter available in XML data when you open the viewlink-targeted view.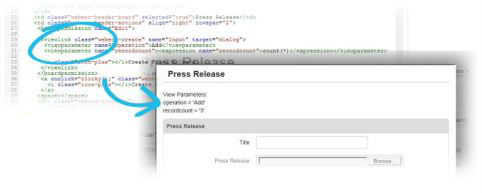 Get exact matches with filter list drop-downs.
If you're using the <filteredlistdropdown/> tag, you'll now get exact matches instead of partial matches.
You can now define menu presentation default.
As an administrator, if you're creating or editing a menu you can now specify whether the menu should be collapsed or expanded by default.
Initially, Collapsed is set as the default option but you can change this by going into Admin: Process: Menus.
Simulations are now even more effective with enhanced simulator options and capabilities.
If details for an inject event need to be updated as a simulation develops, assigned users can now edit the ETime, Inject #, and Synopsis while the simulation is running.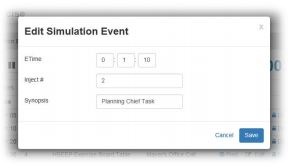 See what areas are consuming the most database space.
From the Admin window, administrators have now got clear visibility across their WebEOC database. Usage is broken down into Files, Board Data, Board Definitions, Audit Logs, and Other so you can quickly and easily identify which areas are using up the most space.

A lot of great new features to make your WebEOC experience even better, right? To see them in action, check out our latest webinar below...