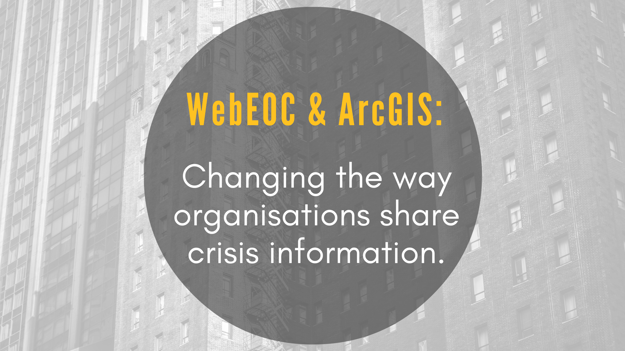 It's a digital age we live in. Virtually any data can be monitored, collected, and shared online. Data that can be used to tell a story, support communities, save lives and livelihoods, and ensure organisations tasked with taking care of these communities can do so to the best of their ability.
Enter Intermedix's WebEOC and Esri's ArcGIS: two powerful, intuitive, and interactive platforms that, when used together, can give organisations the upper hand in incident and emergency management. Many of our Australian and New Zealand WebEOC customers use ArcGIS as well specifically for this reason.
Earlier this year, the California Governor's Office of Emergency Services (Cal OES) shared their WebEOC and ArcGIS story, having integrated the two after the Napa earthquakes in 2014. Using flat maps with an enormous amount of data, Cal OES struggled to collate all this data and deliver it as useful information. Because of this, they noted that there was huge potential for miscommunication.
Introducing ArcGIS, Cal OES soon saw the power in being able to visualise information and data in real time. They could see what was happening in the state at any given time. They cut right back on briefing sessions - there was no need for them anymore. Anyone could see what was happening and where, their decision makers now had the information they needed when they needed it. Time was saved, people were informed, and incidents were dealt with quickly.
Within nine months, Cal OES went from using 5% online products to 95% and they haven't looked back. And why would they? ArcGIS and WebEOC have changed the way they do business. As Dan Bout, Assistant Director of Response pointed out: "The bottom line in emergency management... you have to make it work because it's people's lives, it's families, it's their property, things that are most core to our identity."
Hear more about Cal OES's story in Esri's case study video below:
Want to find out more about how WebEOC and ArcGIS work together? Get in touch now!