Intermedix released WebEOC 8.4 on Wednesday and it's got a number of exciting improvements and additions that are going to benefit both users and administrators in a big way.
And those of you with the Dashboard, Board Data Manager, and Maps Add-ons are in for a treat with a whole assortment of improvements and new things.
The key themes in this release are...
Improved visualisation of data
Improved mapping tools and capabilities
Enhanced capabilities for data importing and exporting
Enhanced control panel refreshing
Improved ease of use for end users
Expanded administrative tools and capabilities.
So let's take a more detailed look at some of the new additions and improvements...
For the Users
Recall of Last Position
WebEOC now remembers the last position you logged in with, which means less log in time and the ability to start right back where you left off.
Browser Reload Option
You can now use your browser's reload button to refresh the page, an option not supported previously.
Enhanced System-wide Message Notifications
When a new system-wide message is posted, you're automatically alerted of the change in three ways: the Home tab turns blue, the system-message is updated, and a pop-up notification appears at the bottom right of the page you are viewing.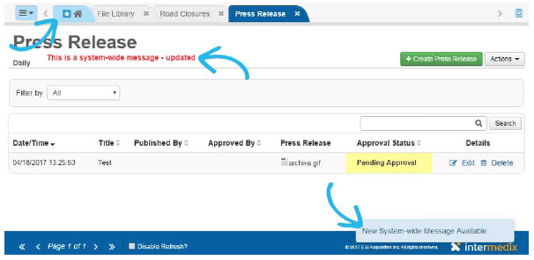 Data Indicator Improvements
New data indicators have been added to the control panel menu and the tab menu and appear when new data is added to a board.

New Tab for View Links
You can now open a board view in a new tab instead of in the current tab, meaning it's easier for you to look at both views and easily switch between the two.
For the Administrators
Data Importing and Exporting
Several major enhancements have been made to the standard data import and export capabilities in WebEOC, including
Direct import of data from XLSX and CSV files

Improved field mapping process

Ability to import latitude and longitude coordinate fields, which are mapped to the corresponding properties of a feature field so it can be displayed in Maps

Automatic verification of correct field formatting

Ability to update or append existing board data

Ability to update records using WebEOC's native primary key, the DataID field.
Additional Actions in Audit Log
To keep the Audit Log as comprehensive as possible, you can now create, update, and delete both maps and map layers within the log.

New and Enhanced Tags
New <updatesection> Tag:

Place the new <updatesection> tag around the markup that contains the <eocrepeatallrecords> and prompt your board to perform a partial page refresh to only update the data indicated. This is especially useful if you have an embedded map.

Multiple <chart> Tags within View:

When creating boards, instead of providing all data expressions with unique labels, you can now use multiple <chart> tags within the same view and use the same label name for the data expressions contained within each tag.

New <listitemicon> Tag:

The new <listitemicon> tag lets you use list item icons in a board.

Specification of Boards for an <externalexpression> Tag:

The <externalexpression> tag allows you to pull data from a table other than the tables in the current board.
Dashboard Add-on, Board Data Manager Add-on, Maps, and Maps Add-on

There are a number of improvements and enhancements for these Add-ons, including the following (and much more):
Dashboard Add-on:

Improved access to Dashbards and Dashboard labelling.

Board Data Manager Add-on:

Expanded data management capabilities for users; added support for importing Shapefile; ability to customise order and labels for export; and the introduction of auto-mapping of foreign keys.

Maps and Maps Add-on:

Ability to embed maps; enhanced map icon and label controls; better management of map layers; expanded options for geocoding records; and the introduction of a preview layer option, map legends, ability to view pop-up labels for features on a map, ability to limit the feature type, a map assignment report.
Pretty good stuff, right? And that's just the highlights. You can find out more about all of the additions and improvements in detail in the Product Announcement.

Or, if you want to take a detailed look at what's new firsthand, watch the WebEOC 8.4: Tags & Attributes webinar recording on our YouTube channel.

Can't access YouTube? No problem! You can watch it right here on our website.