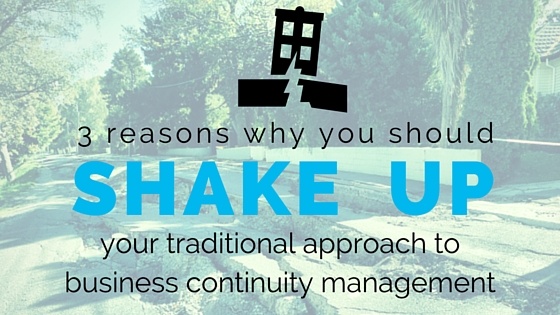 On Thursday 15 October at 9.15 am NZT, more than 1 million kiwis will be participating in the New Zealand ShakeOut (#ShakeOut) by "dropping, covering and holding" for one minute.
I suspect that this event will be a trigger for a lot of businesses to review their business continuity plans. If you're one of them and find, to your dismay, that your plans lack currency, accuracy, completeness and accessibility, perhaps it's time to look at a modern approach to business continuity management.
Here are three reasons why you might like to shake things up:
Make it easier to accommodate change.
The traditional approach of static Word-based plans is no longer sufficient, as the risk of out-of-date information is too high. At the time of an event or test, it is important that the relevant information you need to make decisions and take action can be relied on. Modern tools enable the automation of data updates, so you have confidence that your plans reflect the most current and accurate data available when you need it.
Make planning easy and a pleasure to do.
You didn't take a course to learn how to use LinkedIn. Neither should you if you're developing a business continuity plan in a modern tool. The modern approach sees template-driven plans and reports that leverage built-in planning intelligence, activity workflows, audit histories and more to make the creation and maintenance of your plans simple and sensible.
Make your plans accessible and secure.
No IT, no boundaries. Unfettered by traditional IT constraints, a modern approach ensures you are connected to the plans, information and people when it matters most. If what you want is easy access to your plans anywhere, anytime, and on any device with high security controls, then you deserve to have a look at the modern approach to business continuity management.
To find out more about the new era of business continuity assurance, download this solution brief from Sungard Availability Services.
And – if you haven't yet signed up for next week's ShakeOut, click here: www.shakeout.govt.nz