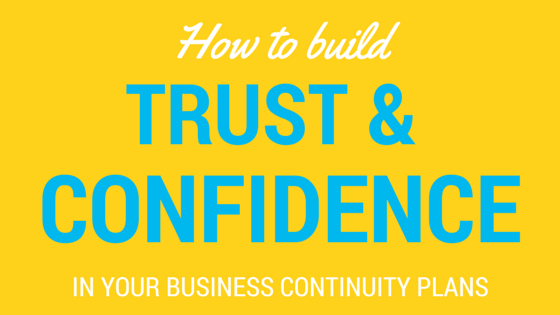 It's a data driven world and when you discover that the data you rely on to make decisions is wrong, what happens? You stop trusting the data, and in the case of business continuity management, you stop trusting the plans - and if you, your colleagues and your stakeholders don't trust your plans, they are unlikely to be used when a disruption occurs. Ergo, your plans are only as good as the data they contain.
Those who apply the traditional approach to business continuity management (i.e. using word processing and spread sheeting tools) find that, when they strip out all the content from their plans and business impact analyses that could potentially be inaccurate, they are left with a cover page, textual (static) descriptions (purpose, scope, assumptions) and column headings. It's no wonder then, that plans aren't always used at the time of a disruption. The trust you have in your plan data gives confidence that the plan is actionable when needed.
So, although keeping data current and accurate is paramount, BC Managers need to resource data management activities – and using the traditional BCM approach, this can be difficult. Limited resources to source, create and maintain data and to manage quality control are common challenges.
The modern approach to BCM offers data integration capabilities that eliminate these manual processes, making your plans come alive by tapping into your key Systems of Record (e.g. HR, Asset Management, CRM, etc).
Here's what happens to trust and confidence in your BCM programme when your organisaton takes advantage of a modern BC approach:
Your plan accuracy improves. Data from your "trusted sources of truth" is reflected in all plans, automatically, all the time. The burden of reviewing and updating data such as mobile phone numbers is a thing of the past, as your modern BCM platform pulls data from the appropriate System of Record.
The vulnerabilities that matter are clearly visible; you don't do the chasing. A dashboard view gives you insights into the relationships and dependencies between data so you can make faster, more informed decisions and gain a view of your BCM programme health – such as RTO gaps between your processes, applications and hardware.
You'll redirect time and resources to focus on "more important stuff" – such as BC programme management: governance, assurance, resource management, infrastructure, planning and engagement.
Here's a great article from Sungard Availability Services that talks about how you can connect dozens of data sources to keep your business continuity plan data accurate and current. When people trust the data, they trust the plan – and that drives confidence in your BCM programme.