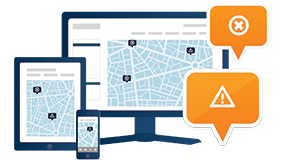 WebEOC - it's a beautiful thing. Over nearly two decades, it has evolved and developed to enable organisations to meet their emergency management needs, from woe to go. With its ability to be fully customised, seamlessly integrated with other systems, and easily scaled up or down, WebEOC caters to any organisations' requirements, regardless of size, location, or utilisation. And on top of that, it also offers a number of add-ons that can help take your emergency management efforts to the next level.
Let's take a look at what they are and how they can benefit your EM objectives...
Communication
Consistent, successful, and immediate communication is, without a doubt, the most critical component in your organisation's safety, response, and recovery efforts. WebEOC focuses on ensuring seamless communication with add-ons that support multi-communications within your organisation and beyond:
IMX Connect: Receives notifications from WebEOC status boards and quickly launches WebEOC from your iOS or Android device
Messages Manager: Sends messages to WebEOC users and external recipients directly from WebEOC status boards
Mobi 2: Enables you to complete WebEOC reports from the field on an iOS or Android device even when offline
Notifications: Allows you to subscribe to status boards and receive desktop and/or email notifications
Twitter Interface: Enables you to send real-time tweets from WebEOC boards.
Integration
Whether it's daily operations or an emergency situation, it's vital to have an EOC that integrates with all parts of your organisation, its partners, and any other relevant parties. WebEOC has a number of add-ons that integrate with other solutions:
WebEOC Fusion: Enables the communication and sharing of data between separate WebEOC instances
KML Feed Interface: Allows you to take geocoded data entered into WebEOC status boards and make it available to users outside of WebEOC
Single Sign On (SSO) for Active Directory & SAML: Integrates with Microsoft Active Directory or SAML to allow secure and quick access to WebEOC without having to log in
CAC Single Sign-on: Provides single sign-on capability for DoD CAC users.
Planning and Data Administration
What are the main goals of every emergency manager? We're willing to bet saving time and increasing efficiency are both pretty high up on the list. Being able to streamline schedules, reports, and data not only helps you during an incident, but it also allows you to evaluate and improve your efforts afterwards. Achieve your data admin and planning goals with the following add-ons:
Batch Reporter: Allows you to create and view reports using data from multiple status boards
Board Data Manager: With advanced data importing and exporting capabilities, this add-on allows direct input into status boards
Board Scheduler: Offers advanced calendar capabilities for scheduling, event management and more
Contacts Manager: Offers a robust contact management tool for WebEOC users and non-users alike
Incident Action Plan (IAP): Allows you to create an unlimited number of IAPs and publish them for recording purposes
Simulator Templates Builder: Supports the creation of simulation scenarios that can be added to and used by the WebEOC Simulator Manager tool.
Resource Management
Administration of requests, resources, personnel, and documentation doesn't have to be a daunting and tedious task. With WebEOC, users can create, manage, and display resources with ease with these add-ons:
Active Users: Displays all users currently logged in and captures historical user activity information
Advanced File Library: Enhances documentation management
Incident Creator: Gives you the ability to quickly create and manage incidents without requiring Admin access
Resource Request and Deployment Module: Catalogs, requests, deploys, and tracks resources in a manner that is compliant with FEMA's National Incident Management System (NIMS)
User Importer: Allows you to easily create and maintain user settings by importing data from spreadsheets.
Mapping
The power of visualisation technology in emergency operation centres is more important than ever. Users need the ability to connect information from various sources into a unified, data-rich display. The following two add-ons offer exactly this:
Maps Add-on: Allows you to create a dynamic, geographically-based common operating picture in WebEOC without the need for specialised GIS or mapping expertise
ArcGIS Extension: Provides seamless integration between WebEOC and ArcGIS, allowing you to use WebEOC in tandem with your ArcGIS data sources, tools and dashboards.
Want to find out more about how these add-ons can take your WebEOC platform and emergency management efforts to the next level? Get in touch!