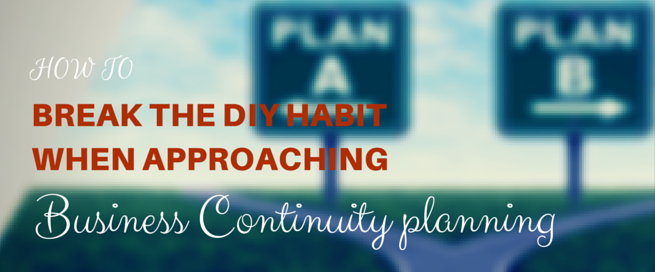 In an environment where there is little or no tolerance for business interruption, our leaders need to know that they have business continuity and disaster recovery plans that are immediately actionable at the time of an event. And by actionable, I mean: they are current, accurate and comprehensive; they have been tested and they have passed. Put your hand up if your business is in this state of readiness. I'm guessing there's not many hands raised at the moment.
Understanding habits
A significant number of those unraised hands will be from within organisations that choose DIY/traditional planning tools such as Microsoft Word or Excel documents. It's understandable. Anyone can create a Word or Excel document that may get a tick in the annual business plan compliance box (yes, Boss, we've got a plan) and may get pulled out at the time of an event or disaster (or maybe not - research shows that 75% of plans aren't even used at the time of an event).
Human brains are wired to follow the (apparently) easiest path to achieve a task; it's a foundation of how we learn and follow habits. However, there's significant risk in this DIY-easy fix approach, especially in regards to maintenance, availability and security of our plans.
Habits are simply undertaking an action (usually those of least effort) to achieve a reward. In the case of DIY business continuity planning, the "action" is completing the plans in Word (requiring the perceived least amount of effort) to achieve the reward of getting a tick in the compliance box.
Changing habits
The great thing is that any habit can be changed. The trick to changing habits is to substitute the current action for something that requires a similar or reduced amount of effort for the same reward.Today, business continuity and disaster recovery professionals are replacing their DIY approach with modern business continuity software that requires a similar action (development and maintainenance of plans) but offers rewards that far exceed simply ticking the compliance box. Modern business continuity management software delivers dynamic, intelligent, actionable and Facebook-easy plans for business continuity and disaster recovery professionals and novice/line of business planners alike. Habit changed. If only it was so easy to change that after dinner chocolate fix habit!
Getting a better reward for your actions
Modern business continuity management software enables entire organisations to get up and running quickly, while at the same time offering the agility to scale and work with the rate of change in today's business environments. To learn about how you can transform your DIY approach to one that eliminates the consequences of DIY – poor maintenance, error-prone change processes and lack of security - make sure you download the whitepaper 7 keys to unlocking a Modern Business Continuity Management approach. Your business continuity programme deserves it and your business depends on it. And if you're interested in reading more about habits I highly recommend reading The Power of Habit: Why We Do What We Do in Life and Business by Charles Duhigg. Go ahead – break the habit!