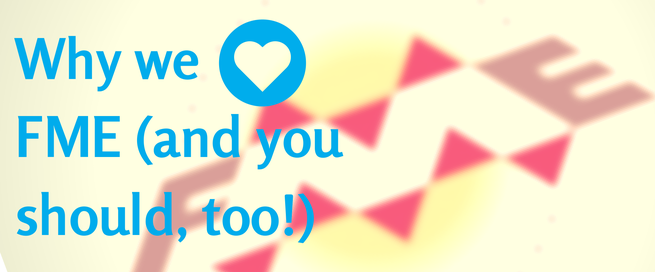 At Critchlow, we eat, sleep and breathe spatial data and we typically use FME to get the job done. In our minds, there's simply no better spatial data transformation engine available that can connect, transform and automate spatial data the way that we can using FME. That said, we still get a lot of questions from folks about why we love FME as much as we do, so I wanted to list out a few of the more major reasons in a blog post. To help me I asked some of our consultants who recently had some FME training about what they love about FME – you'll see their comments below.
Note that this is NOT meant to be an all-inclusive list by any means or a rundown of all of FME's features – in fact, I'm purposely leaving out quite a bit as that would be a waste of time. Hopefully, however, this post will provide you with a better idea for what the rave around FME has been. Enjoy!
Preface: What is FME?
Data is power (and awesome) - but it often requires some manipulation to be used to its full potential. Either it needs to be used in a different application, combined with disparate data, stored for access by anyone, or checked for errors. These are just a few of the data challenges that FME can help you with using its range of capabilities.
#1 With FME the answer is usually "yes"
"I Love FME because of the possibilities of combining seeming incompatible data in one place and being able to do whatever you want with that data". Erica - Consultant
We have a running joke at Critchlow HQ where if we are discussing how to solve a problem someone will inevitably say "why don't we use FME?" Now, these problems are mostly spatial data based but the odd left-field problem still might get the FME once-over as inevitably, once we ask the question of if the problem can be solved with FME the answer is usually a big "YES".
#2 Repeatable. Repeatable. Repeatable.
"FME is awesome because it allows for more effective use of resources. Having repeatable processes authored and execuited in FME means our consultants save time on projects, and at the end of the day, time is money ". Dene – Operations Manager
I don't really need to expand on this quote from Dene. FME allows us to be more efficent, saving ourselves and our clients time and money.
#3 FME is not just about format translations; it's about transformations
"FME is awesome because I can easily find differences between two versions of a dataset and therefore only process the changes to that dataset, rather than repeating the process for every record every time". Sharyn – Senior Consultant
At Critchlow, our most commonly created workspace is from MapInfo Tab format back to MapInfo Tab format: we use FME to transform data even when we don't need to translate its format and with 400+ transformers there is nearly always a tool for the job. But...
#4

400+ transformers are sometimes not enough
"FME is great because I can build my own custom transformers using Python" Petar – GIS Developer
There are the clever ones in all organisations that like to push the boundaries and try different things and the Consultants at Critchlow are no exception. FME ships with over 400 transformers for performing almost every task you can think of without resorting to scripting but if you really need to you can use Python within FME to perform tasks which are not possible with standard FME tools and transformers. Petar likes that.
#5 Intuitive workflow authoring
"I love FME because it is so easy to use. I was using FME to complete projects even before our training because the workflow authoring is such a simple concept to grasp" Melissa - Consultant
Basically if you can understand the concept of read – transform – write, you've pretty much got FME nailed. Of course, knowing which of the 400+ transformers to use can take a little time to learn but the drag-and-drop workbench canvas has lots of great features to help you get the job done quickly.
Final Thoughts
Again, this blog post was not meant to be a full breakdown of why we love FME at Critchlow or a list of FME's features, but hopefully you now have a better understanding of why we've been raving about it here over the past couple years.
If you're looking for more information on FME and how it can be leveraged to drive efficiencies in connecting, transforming and automating your spatial data,
and we'd be happy to chat – we are in fact a FME reseller!