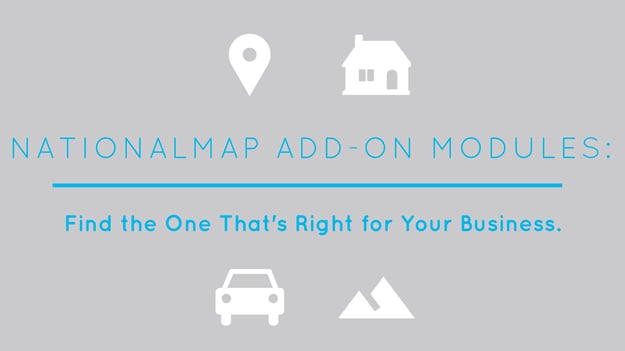 With a bunch of benefits and value-adds woven through it, NationalMap offers Kiwi organisations the most detailed, precise, and complete mapping solution available in New Zealand.
It is feature-rich, offering accurate and comprehensive representation of everything from roads and roundabouts to fords and transport terminals. It's constantly and unfailingly updated on a monthly, quarterly, and biannual basis, making it the most up to date mapping platform in the country. It's trustworthy, being updated using ISO 9001 processes, and it's consistent, no matter how big or small, how populated or vast an area, you'll find the same amount of detail in each. And to top it all off, there are a number of specialist add-on modules that can take your NationalMap experience further, giving your business the opportunity to become even more efficient.
If you're ready to move things up a notch, we've broken down the four modules on offer to give you an overview of what's right for you…
Routing Module
In a nutshell
If travel time equals money for your business, the Routing module offers up a number of benefits to ensure that your logistics operations are streamlined to run smoothly, efficiently, and consistently.
The benefits
Save time and stress by planning optimal routes using:

Data gathered from estimated journey times
An in depth view of impassable obstructions
Traffic light locations
Turn restrictions
One way systems

Keep your employees safe and your brand name solid with the ability to see if drivers have been speeding or exceeding drive/rest regulations.
What type of business or industry would benefit from the Routing module?
Fleet Management; Courier, Postal or Delivery services; Manufacturing and Logistics; Transport services; Door-to-door sales; Emergency services; Franchise-based businesses for territory allocation.


Cadastre Module
In a nutshell
The Cadastre module is a user-friendly, comprehensive tool that offers cadastral land information in an accessible way and is tailored to your business needs.
The benefits
Easily analyse land use, property ownership, alteration to legal parcel boundaries, and representation of rates information
Choose between three different levels of detail – you'll be paired with a level and price range that is suited to your needs:

The basic level allows you to view and analyse land parcels and address points
As well as incorporating everything available in the basic package, the intermediate level also includes owner information that can be linked to the data from the Mortgages module and Census products
Primarily for Local Government, the advanced level allows for the complete analysis of property boundaries, addresses, ownerships details, easements, legal road corridors, private and public rights of way, and hydro parcels.
What type of business or industry would benefit from the Cadastre module?
Asset management; Retail networks and development; Local and Central Government; Territory planning; Housing development; Door-to-door sales; Transport services; Courier, Postal or Delivery services

Mortgages Module
In a nutshell
If your day-to-day business relies on in depth access to and knowledge of mortgage details of properties in order to profile your customers and develop successful targeted marketing campaigns, the Mortgages module is for you.
The benefits
The ability to access and view up to date mortgage and financial institution alignment information for New Zealand properties
The Mortgages module allows your business to create and deliver successful targeted marketing campaigns:

Calculate market shares between financial institutions
Get a high level overview of the number of properties in an area that have mortgages and with which institution
See when mortgages are being lodged and when they're dropping off

The ability to add in your own data and analysis will give you that extra level of depth you need.
What type of business or industry would benefit from the Mortgages module?
Mortgage brokers; Financial organisations; Real Estate organisations

Elevation Module
In a nutshell
The name says it all, really! If the ability to analyse hills and gradients in depth is vital to your organisation, then you'll be able to do just that (and much more) with the Elevation module.
The benefits
Make significant fuel savings by managing fleet vehicles up and down hill
Save time and stay safe with a high level overview of what areas are at high risk to slips or flooding
The ability to analyse visual impacts of new developments
Develop comprehensive analytics with access to data on weather and climate, altitude and temperature models, vegetation species type, and soils and agriculture
The ability to execute in depth cross-section analysis and produce slope models in 3D for planning purposes
A helping hand in successfully managing the ecological and aesthetic impact your project is having on the environment.
What type of business or industry would benefit from the Elevation module?
Fleet management; Logistics and Distribution; Construction; Council and Government; Gas and Electricity distribution; Water and Waste management; Landscape and Environmental Consultants.
Ready to go the extra mile with your NationalMap platform? Contact us now and we'll get you set up with the add-on module that will give your business the added in depth and analytical information you're looking for.